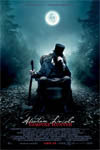 User Rating:
Abraham Lincoln: Vampire Hunter 3D
Release date:

June 22, 2012
Score:7.82 / 10

Genre:

Horror

Running Time:

105
Rating:
Cast:
Synopsis:
America's 16th president is brought to life on the big screen for a story never-before told. When his mother is killed by a supernatural creature, Lincoln makes it his mission to exterminate the undead, training to become the ultimate hunter. However, his skills become all the more necessary when a team of vampires try to take over the United States.
Based on a novel by Seth Grahame-Smith.
Abraham Lincoln: Vampire Hunter 3D Movie Times:
(No Spring screenings)