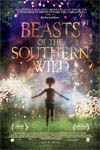 User Rating:
Beasts of the Southern Wild
Release date:

July 13, 2012 - Toronto, Montreal, Vancouver
July 27 - Ottawa/Calgary/Edmonton/Victoria/Halifax
Score:7.07 / 10

Genre:

Drama

Running Time:

91
Rating:
Cast:
Quvenzhané Wallis, Dwight Henry
Synopsis:
Six-year-old Hushpuppy lives with her father in a southern Delta community, but when he contracts a mysterious illness, her world begins to unravel. Her father has prepared her well, but with no one to protect her, she sets out on a quest in search of her mother.
The young girl's adventure takes a turn for the worse as temperatures rise and ice caps melt, causing prehistoric creatures, called Aurochs, to be unleashed.
Beasts of the Southern Wild Movie Times:
(No Spring screenings)