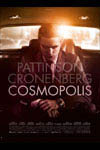 User Rating:
Cosmopolis
Cast:
Robert Pattinson, Juliette Binoche, Sarah Gadon, Mathieu Amalric, Jay Baruchel, Kevin Durand, K'nann , Emily Hampshire, Samantha Morton, Paul Giamatti
Synopsis:
Eric Packer (Robert Pattinson), 28, an asset manager from a privileged background, gets into a white limousine in New York City with a goal in mind—he wants his barber to give him a haircut, but the barber shop is at the other end of the city. Unfortunately, a visit from the President of the United States throws Manhattan traffic into almost a complete stop.
Despite warnings from his bodyguard (Kevin Durand) that the trip may be dangerous and time-consuming, Eric insists on getting a haircut. Along the way, he runs into his newlywed bride (Sarah Gadon), who's less than thrilled to see him and accuses him of cheating on her. That's probably because he has sex with a variety of women both in his car and hotels en route, while coolly realizing his billions of dollars are taking a huge hit on the market. There's also someone trying to assassinate him, and he decides to track the man down.
Cosmopolis Movie Times:
(No Spring screenings)