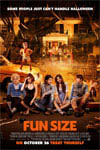 User Rating:
Fun Size
Trailer:

Fun Size Trailer

Release date:

October 26, 2012
Score:6.83 / 10

Genre:

Comedy

Running Time:

86
Rating:
Cast:
Victoria Justice, Thomas Mann, Jane Levy, Chelsea Handler, Thomas McDonell, Osric Chau, Thomas Middleditch, Jackson Nicoll, Ana Gasteyer, Josh Pence, Kerri Kenney-Silver
Synopsis:
Wren (Victoria Justice), a high school senior, gets invited to a Halloween party thrown by the hottest guy in school (Thomas McDonell). On the night of the party, her mother tells her she has to babysit her weird little brother and take him out trick-or-treating, because she's going to a party with her much younger boyfriend.
When Wren loses him, she and her best friend April (Jane Levy) enlist Roosevelt (Thomas Mann), who has a crush on Wren, and his equally nerdy friend Peng (Osric Chauto) to help them on a frantic search to find Albert before her mother gets home.
Fun Size Movie Times:
(No Spring screenings)