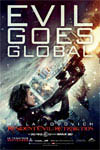 User Rating:
Resident Evil: Retribution
Release date:

September 14, 2012
Score:5.36 / 10

Genre:

Action

Running Time:

97
Rating:
Cast:
Milla Jovovich, Michelle Rossignol, Kevin Durand, Sienna Guillory, Shawn Roberts, Aryana Engineer, Colin Salmon, Johann Urb, Boris Kodjoe, Li Bingbing
Synopsis:
Alice (Milla Jovovich), the world's foremost zombie slayer is back in the fifth film of the Resident Evil franchise. When she's captured by the evil Umbrella Corporation, Alice wakes up in the heart of one of their operation facilities and must find a way to escape.
As she navigates deeper through the complex, her past is revealed, taking her on an international mission that spans Tokyo, New York and Moscow. However, when she finally uncovers the truth behind the outbreak, Alice must re-think everything that led her to this moment.
Resident Evil: Retribution Movie Times:
(No Spring screenings)