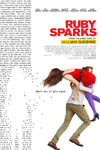 User Rating:
Ruby Sparks
Trailer:

Ruby Sparks Trailer

Release date:

August 3, 2012 - Tor/Van
Aug 10 - Calg/Edm/Hal/Ott/Vict/Winn
Score:6.89 / 10

Genre:

Comedy

Running Time:

104
Rating:
Cast:
Paul Dano, Zoe Kazan, Antonio Banderas, Annette Bening, Steve Coogan, Elliott Gould, Chris Messina
Synopsis:
After achieving great success at the age of 19 when his first novel became a bestseller, Calvin is experiencing writer's block, mixed with the lack of any inspiration that might come from having a love life.
He surprises himself when he creates a loving character named Ruby and begins to write nonstop about her, picturing her as his girlfriend. He's taken by surprise when she suddenly appears in his home. After initial trepidation, he begins to enjoy his newfound love but when Ruby wants to meet other people, it introduces stress into their relationship.
Ruby Sparks Movie Times:
(No Spring screenings)