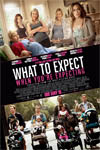 User Rating:
What to Expect When You're Expecting
Release date:

May 18, 2012
Score:6.53 / 10

Genre:

Comedy

Running Time:

110
Rating:
Cast:
Cameron Diaz, Jennifer Lopez, Elizabeth Banks, Chace Crawford, Brooklyn Decker, Anna Kendrick, Matthew Morrison, Dennis Quaid, Chris Rock, Rodrigo Santoro, Ben Falcone, Joe Manganiello
Synopsis:
Five couples find their intertwined lives turned upside down by impending parenthood. Whether it's the celebrity power couple, an author who doles out militant mommy advice, or a photographer willing to travel the world to adopt, none of them are prepared for what lies ahead.
Based on the #1 bestselling pregnancy book of the same name by Heidi Murkoff and Sharon Mazel.
What to Expect When You're Expecting Movie Times:
(No Spring screenings)