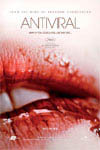 User Rating:
Antiviral movie reviews
Write a Review
Monday, April 29, 2013 12:08:28 AM | (Age Not Specified)

Much less then I expected.do not waste your time

Saturday, April 27, 2013 2:00:38 AM | (Age Not Specified)

Going to put this atrilce to good use now.

Saturday, April 20, 2013 12:14:57 PM | (Age Not Specified)

Even if you have 108 minutes to waste, don't waste it on this movie. You would still want your 108 minutes back!

Thursday, October 11, 2012 4:52:05 PM | (age group: 35–49) | F

What a great story and an excellent post. Just what I may have been neideng to hear. And I agree with Cindy, Kim, Deb, and Rajesh . . . sometimes you just have to take an occasional risk or two.
...or view more recent movie reviews ...