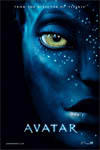 User Rating:
Avatar movie reviews
Write a Review
Tuesday, April 1, 2014 10:25:25 AM | (Age Not Specified)

Awesome movie, watched it 5 times!

Monday, November 22, 2010 3:02:30 PM | (Age Not Specified)

This movie broke new ground in visual effects..they were simply stunning.Storyline was good,had some morals.Makes more than a few points about what man is doing to our planet.Definitely see it !

Monday, November 22, 2010 2:53:52 PM | (Age Not Specified)

look people, just because a movie has special effects does not make it the greatest movie of all time. the dark knight was amazing and it had little special effects. i agree that the plot was a little predictable and this story has been done before. ice age for example. plus it drags on and is way too long. nice action, but the acting could have been better. bottom line special effects aren't everything.

Monday, July 19, 2010 8:47:41 PM | (Age Not Specified)

A little long, but incredible.

Thursday, July 8, 2010 11:29:27 AM | (Age Not Specified)

So obviously everyone is going to be talking about this movie. And honestly, they should be. It's fantastic and mind blowing. The sights and sounds of this movie drew me into it so deeply. I loved it entirely. I also loved being able to make the real world connections or to relate the movie to real life issues. It's powerful and breath taking. James Cameron has done it again, although I personally believe that with Avatar he will be reaching a much wider audience then he ever did with Titanic. Final notes, the acting was great and although the base story line wasnt the most original, really I challenge you to show me any movie today that is completely original. Oh and for those w

Friday, June 4, 2010 8:06:38 AM | (Age Not Specified)

A well done film done by James Cameron. Who ever rated it less than 3 stars you are wrong it has great graphics and awesome colour like the AVATARS are blue,and its all because of AVATAR my cousin started painting him self blue and acting like an avatar (btw my cousin is 10.) So who ever did`t see avatar yet i bet you a thousand dollars that you would love the movie.Exellent preformance done my Michelle Rodriguez and Zoe Saldana. Trust me YOU WILL LOVE IT.

Thursday, May 27, 2010 7:33:38 PM | (Age Not Specified)

THIS IS THE BEST MOVIE I HAVE EVER WATCHED!!!!!!!!!!!!!!!! AWESOME SPECIAL EFFECTS

Monday, May 24, 2010 10:28:07 PM | (Age Not Specified)

sooooooooooooooo great

Sunday, May 23, 2010 4:03:24 PM | (Age Not Specified)

an instant classic

Sunday, May 9, 2010 5:24:38 PM | (Age Not Specified)

I'm really torn with this movie theres things I like and don't like I like the special effects and the beautiful scenery but the storyline is way too predictable and if you've ever seen jaws you know that its not the cgi that makes a movie spectacular.
Pages: 1
2
3
4
5
6
7
8
9
10
11
12
13
14
15
16
17
18
19
20
21
22
23
24
25
26
27
28
29
30
31
32
33
34
35
36
37
38
39
40
41
42
43
44
45
46
47
48
49
50
51
52
53
54
...or view more recent movie reviews ...