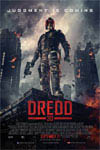 User Rating:
Dredd movie reviews
Write a Review
Friday, April 12, 2013 2:38:49 PM | (Age Not Specified)

Ok, I have to say this is much better than the Sylvester Stallone one. More true to the comic and far grittier than the other. Love Karl Urban. I think he is an under-rated actor.

Thursday, February 07, 2013 11:48:16 AM | (Age Not Specified)

This movie was blah, nothing more than 2 stars deserved. The added gore to this made it interesting but the whole story is boring. Even the most action filled scenes are just OK. I love action movies but I found this boring.

Friday, January 18, 2013 9:57:35 PM | (Age Not Specified)

Everything you would want in an action movie. Classic!

Thursday, January 10, 2013 4:16:43 PM | (Age Not Specified)

I'm a chick and I loved this movie. Two strong female characters and lots of blowing stuff up. Great visual effects, too. Loved it!

Tuesday, January 08, 2013 9:23:11 PM | (Age Not Specified)

Scary to see those giving more than 3 Stars for this movie! Come on, it's awful......

Sunday, January 06, 2013 3:26:05 PM | (Age Not Specified)

terrible storyline and acting!!!! that's insanely stupid!! what a waste of 95 min of my life!!! two thumbs down!!! damn it!! so boring and not so much action!! so fake!!

Friday, October 05, 2012 12:22:29 PM | (Age Not Specified)

boring story, stupid story not worth watching!

Tuesday, October 02, 2012 6:45:03 PM | (Age Not Specified)

just because the box office says its a flop doesn't mean its bad. Dredd stays true to the source material while also being an awesome bloody shoot em up. Judge Dredd for Judge Dredd fans love it!!! also Urban is great!

Sunday, September 30, 2012 2:11:14 PM | (Age Not Specified)

alot better than judge dredd

Saturday, September 29, 2012 6:17:06 PM | (Age Not Specified)

Stallone's best movie in years.
Pages: 1
2
3
4
...or view more recent movie reviews ...