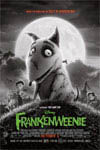 User Rating:
Frankenweenie 3D movie reviews
Write a Review
Monday, October 29, 2012 12:12:27 PM | (age group: 2-17) | F

Finally! This is just what I was looinkg for.

Saturday, October 13, 2012 12:22:06 PM | (age group: 18-24) | F

this movie was terrible, it should be rated R not suitable for kids at all! the plot was stupid and it was plan bad, nothing one good thing about this!!!! do not spend your money on this movie!!!

Thursday, October 04, 2012 12:33:47 AM | (age group: 2-17) | F

This was the best movie I ever so in my intire life its the best thank you Tim burten
...or view more recent movie reviews ...