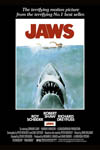 User Rating:
Jaws movie reviews
Write a Review
Saturday, June 01, 2013 2:04:31 PM | (age group: 35–49) | F

This is just a remarkable movie. I was not quite ten years old when this movie came out and probably shouldn't have seen it at that age, but to this day is is one of the best films I have ever seen. It will scare the crap out of you - suspenseful, just super. Read up on it - they ran into so many problems but Spielberg refused to relent, and thereby created one of the best and most sustaining movies of our time.
...or view more recent movie reviews ...