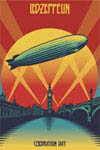 User Rating:
Led Zeppelin: Celebration Day movie reviews
Write a Review
Sunday, October 28, 2012 4:59:56 AM | (age group: 35–49) | F

i saw the movie and i got to tell ya i HATED the ending and just for that my pearnts gave me a lecture of stuff is just a movie right? and blah blah it WAS a good movie i just think everything went in to fast and the ending was plain dumb to me but is just an oppinion my pearnts take thigns to seirous =.=

Thursday, October 18, 2012 9:11:49 AM | (Age Not Specified)

saw it opening night. heard it a while back on cd. Started a little slow, but by the 4th song(In my time of dying) the boys found their stride and after that it was awesome!!People in my theatre were whistling and cheering just like being at the concert. no wonder they outsold everyone including the Beatles during their career. i'm going again

Thursday, October 18, 2012 8:27:15 AM | (age group: 35–49) | F

Amazing concert footage really showed what they were like. Loved it on the big screen. Such hard workers. Jimmy Page was unbelievable. One of the best bands ever. I'm so glad I saw it.
...or view more recent movie reviews ...