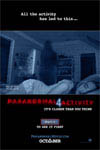 User Rating:
Paranormal Activity 4 movie reviews
Write a Review
Friday, November 09, 2012 4:41:58 PM | (Age Not Specified)

awesome movie

Wednesday, November 07, 2012 4:12:23 PM | (Age Not Specified)

terrible, just terrible

Tuesday, October 30, 2012 9:36:16 PM | (age group: 2-17) | *

NO PLOT!!!!!!!!!!!!!!1

Friday, October 26, 2012 1:07:27 AM | (Age Not Specified)

I enjoy horror movies but never Paranormal Activity series, as too predictable & hardly scary (gimmicky tether-pull stunts), generally crappiest series of all horror movies, but this 4th one was more interesting, less predictable, with fewer stupid 'false scares' and plenty of 'oh-no-whats-next' moments. no creepy music (yay!) enjoyed last terror moments even more scary that resolve properly. plus occultic extra clip after end credits most miss.

Thursday, October 25, 2012 3:56:21 PM | (Age Not Specified)

This movie was extremely scary! People left the theater screaming. It gets really scary at night #9 and by the end of the movie you will be terrified.

Friday, October 05, 2012 12:54:56 PM | (Age Not Specified)

Creepppy!

Thursday, August 30, 2012 5:34:05 AM | (age group: 25-34) | M

Everyone I know ahted it but you make the best point its all about your imagination! It feeds off your toguhht process. For me, when she stood out of bed and just STOOD by his side of the bed for like 2 hours, thats some freaky shit. Picturing myself in his shoes tossing and turning in bed not knowing someone is next to him just hovering over him is creepy! I think you gave this a fitting score!
...or view more recent movie reviews ...