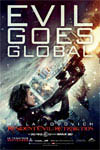 User Rating:
Resident Evil: Retribution - An IMAX 3D Experience movie reviews
Write a Review
Sunday, September 30, 2012 3:29:22 PM | (Age Not Specified)

Excellent Action Packed Movie

Sunday, September 23, 2012 7:37:22 AM | (Age Not Specified)

lots of martial arts and special effects; you think you are inside a video game; you can see a few toronto backgrounds. better than resident evil 4 (resident evil: afterlife). you do not need to have seen previous movies to enjoy this flick.

Tuesday, September 18, 2012 11:22:16 PM | (Age Not Specified)

not a fan of the series, but always enjoy an action movie where girls are agile in combat. didn't care too much for past iterations, but this one was actually excellent for an interesting story, visuals, battles, fight scenes, interplay of characters [in multiple roles](dialogue didn't have to be deep anyway). enjoyed it immensely. girls kicking butt with variety-n-spice. hehehe. worth the see. [[imax 3d]] added to the fun. impressive opening scene as well as the rest.

Sunday, September 16, 2012 9:57:49 AM | (Age Not Specified)

the keep getting better and better!!

Saturday, September 15, 2012 1:32:34 AM | (Age Not Specified)

resident evil: retribution is the fifth and biggest resident evil film yet. it's also louder, faster and more complex than its predecessors - and, overall, better. shot in 3d, it looks great in imax and the sound is spectacular. even better, it begins with a five-minute recap of the series so even if you haven't seen the other films in the series, you can get right up to speed - which is good, because the last film in the series ends with a cliffhanger. resident evil: retribution is lowbrow fun that's smarter than it needs to be but i'm really hating the way that it, too, ends with a gigantic cliffhanger (seriously, it's a monstrous cliffhanger!). still, well worth seeing a theater
...or view more recent movie reviews ...