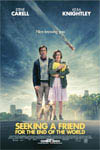 User Rating:
Seeking a Friend for the End of the World movie reviews
Write a Review
Friday, April 19, 2013 1:31:14 AM | (Age Not Specified)

You simply must see this movie.

Sunday, March 10, 2013 8:37:08 PM | (Age Not Specified)

The movie of the year!

Saturday, August 25, 2012 3:34:35 PM | (Age Not Specified)

good movie, great message, loved the ending.

Wednesday, August 22, 2012 7:30:17 PM | (Age Not Specified)

cute, funny, typical steve carrell movie

Tuesday, August 14, 2012 12:10:44 PM | (Age Not Specified)

i was surprised at the "depth" that the movie developed. more than just a "feel good movie.

Thursday, August 02, 2012 8:27:17 PM | (Age Not Specified)

enjoyed this movie very much. wasn't sure what to expect but i was glad i came. makes a person really think about a subject that could very well happen in this day and age.

Thursday, July 05, 2012 11:04:23 AM | (age group: 35–49) | M

First off, I went to see this movie because Ted was sold out. But I didn't leave the theatre dissapointed. The premise of the movie isn't original, but I've never seen a storyline quite like this. It starts off a bit slow, but then you witness a romance that builds up until the very last second of the movie, leaving a dramatic lasting impression on the viewer. Loved this movie. If you have kids, you'll find yourself going back home to give them a hug.

Sunday, July 01, 2012 3:00:25 AM | (Age Not Specified)

i laughed the whole way through!

Sunday, July 01, 2012 12:34:50 AM | (Age Not Specified)

sorry. no stars. the movie is too depressing to be a comedy and too fatalist to be even a tragedy. jesus equated to oprah? poor woman, how much she needs to be seen that she needs blasphemy to be noted. maybe the high note of the whole scenario is that a world without god becomes miserable to the extreme of seeing values depreciating faster than life. no asteroid is needed to destroy a world like that.

Thursday, June 28, 2012 8:08:45 AM | (age group: 25-34) | F

very bad!
Pages: 1
2
...or view more recent movie reviews ...