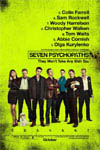 User Rating:
Seven Psychopaths movie reviews
Write a Review
Monday, February 04, 2013 12:03:29 AM | (Age Not Specified)

Fantastic. Fun movie

Monday, January 28, 2013 5:11:52 PM | (Age Not Specified)

Meh.... 1st half wasn't bad. I'd never watch this again.

Saturday, January 12, 2013 7:51:48 PM | (Age Not Specified)

personally, if a movie can make me cry laughing the second time I watch it, it's pretty damn good.

Wednesday, January 02, 2013 5:48:25 PM | (age group: 2-17) | M

Sam Rockwell was in his ZONE!He plays psycho characters very well and this was one of his best performances. Christopher Walken handed in a great performance as usual. The plot was very involved, so maybe some people didn't understand it. I loved it, even though it very twisted.

Monday, November 12, 2012 12:00:22 AM | (Age Not Specified)

Don't waste your time and money. the only saving grace was christopher walken.

Sunday, November 11, 2012 12:29:51 AM | (Age Not Specified)

I did not enjoy this movie. Very different from what i expected. It could have been a good movie if the writing was better.

Friday, November 09, 2012 9:31:37 PM | (age group: 50 or over.) | F

Brilliant film. Christopher Walken is such an incredible actor that I viewed this movie on that basis alone - but this movie quickly moved from what I call "movie" to "film" - certainly not a Hollywood comedy if that is what you are looking for.

Tuesday, November 06, 2012 5:31:11 AM | (Age Not Specified)

By far the worst movie I have seen in the past decade. I watched it as long as possible and left with about 45 minutes remaning.Refunds should be allowed if you leave half way through.

Monday, October 29, 2012 2:12:03 AM | (Age Not Specified)

I have never commented on a movie before, but I just had to for this one. One of the greatest movies I've ever seen, hands down. Some of the funniest and heart-wrenching moments all wrapped into one beautiful film which makes conscious fun of itself throughout. I'm sorry,but anyone who found it boring or a gore-fest just really didn't get it. Damn near perfect.

Saturday, October 27, 2012 2:47:09 PM | (Age Not Specified)

This was great movie!! Totally offbeat, and ridiculous. Actors making fun of themselves in the movie industry. Well played, well played! :)
Pages: 1
2
...or view more recent movie reviews ...