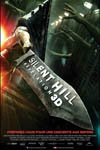 User Rating:
Silent Hill: Revelation movie reviews
Write a Review
Tuesday, February 19, 2013 1:13:52 AM | (Age Not Specified)

nice follow up to the 1st flick, totally my kind of movie!

Sunday, February 17, 2013 11:24:50 AM | (Age Not Specified)

special effects are terrible, not worth watching

Saturday, January 05, 2013 10:22:30 PM | (age group: 2-17) | M

to many plot holes not enough gore. would watch once
...or view more recent movie reviews ...