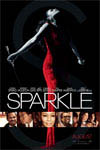 User Rating:
Sparkle movie reviews
Write a Review
Monday, October 01, 2012 1:53:58 AM | (Age Not Specified)

I loved this movie very much- I have always loved Whitney as a singer and I saw another one of her movies - Body Guard and really liked her in there too, so I wanted to see this one too.

Thursday, September 13, 2012 12:32:23 PM | (Age Not Specified)

nice portral of whitney.

Saturday, September 08, 2012 6:29:07 PM | (age group: 2-17) | F

The movie was great and the selection of actors/actress's great as well. The coming out party for Jordin Sparks and a going away present from Whitney Houston to her fans/family/followers. A grand producton for T. D. Jakes and a successful first time project for Salim Akil. I was very pleased with this movie. Thanks to all who participated in making this movie possible.

Wednesday, September 05, 2012 11:59:47 AM | (Age Not Specified)

i wasn't expecting much except to enjoy a bit of music... a bit of story of struggle of fulfilling elusive dreams. to that, it succeeded and i enjoyed the story and the music; and didn't care whether it was a remake or variational fiction based on the real supremes several decades back. worth the see. i know people generally don't like anything related to christians (no matter how they are like), so if you don't, you won't like this movie, period. for sure, i feel we lost whitney houston much much too young, and miss her; too bad she didn't get to enjoy the success of this movie, as limited the audience might be.

Friday, August 31, 2012 12:38:28 PM | (age group: 25-34)

A very good movie, I loved it. All of the actors and actresses were great. I can definitely go see it again.

Monday, August 27, 2012 10:57:49 AM | (age group: 18-24) | F

I am so glad I read this. I have been wanting to see this, but then I read it wasn't any good by one of the skteipcs. I was bummed because I didn't want to waste money on a boring movie. Thanks for letting us know how funny it is. I'm gonna go see it.Smiles SherShersL84bed@aol.com

Sunday, August 26, 2012 11:03:46 AM | (Age Not Specified)

felt it was more suited for video vs. theatre release. 2-1/2 stars.

Monday, August 20, 2012 6:30:56 PM | (Age Not Specified)

great acting by every one

Sunday, August 19, 2012 5:15:06 PM | (Age Not Specified)

a return to the great music of motown and a last chance to see whitney houston. not on a par with the bodyguard, but still an immensely enjoyable movie.

Sunday, August 19, 2012 2:19:35 AM | (age group: 50 or over.) | *

Love this movie. It should recevie many grammy awards
Pages: 1
2
...or view more recent movie reviews ...