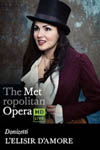 User Rating:
The Metropolitan Opera: L'Elisir d'Amore movie reviews
Write a Review
Saturday, October 20, 2012 9:45:50 AM | (age group: 18-24) | M

Very valid, pithy, succicnt, and on point. WD.

Tuesday, October 16, 2012 6:29:52 AM | (age group: 18-24) | M

What a great story and an excellent post. Just what I may have been nedieng to hear. And I agree with Cindy, Kim, Deb, and Rajesh . . . sometimes you just have to take an occasional risk or two.
...or view more recent movie reviews ...