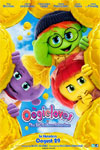 User Rating:
The Oogieloves in the Big Balloon Adventure movie reviews
Write a Review
Thursday, September 13, 2012 5:20:51 PM | (Age Not Specified)

the person who gave this move 5 stars, and claims it involves the beatles, is clearly confused. this movie has nothing to do with the beatles. or with any sort of coherent filmmaking. but what can you expect from something that is advertised with the line "from the marketing visionary who brought you the teletubbies"?

Saturday, September 01, 2012 4:00:13 PM | (Age Not Specified)

great movie, must watch!
...or view more recent movie reviews ...