Aladdin, starring Will Smith, Mena Massoud and Naomi Scott, takes you on a magic carpet adventure.
The new live-action
Aladdin
puts a spin on the classic Disney animated film, bringing to life the Arabian thief (
Mena Massoud
) in the titular role, strong-minded Princess Jasmine (
Naomi Scott
) and a larger-than-life Genie (
Will Smith
). The adaptation is lively, colorful and surprisingly, very funny.
The film opens with street rat Aladdin stealing from the streets of his native Agrabah. He runs into Princess Jasmine, who is disguised as a local. He is smitten by her, but believes she is the handmaiden of the princess.
When he discovers that his monkey Abu has stolen Jasmine's bracelet, Aladdin sneaks into the castle to return it and is caught by the Sultan's trusted advisor, Jafar (Marwan Kenzari), who reveals that the handmaiden is actually the princess. Jafar takes Aladdin into the desert to the enchanted Cave of Wonders, forcing the young man to retrieve a magical lamp in return for riches. Jafar plans to use the lamp to overthrow the Sultan.
Aladdin enters the cave, finds the lamp, rubs it and meets a Genie. After being told he has three wishes, he uses his first wish to get them out of the cave. His second wish is to become a prince so he can be worthy enough to marry Princess Jasmine. So Aladdin and the Genie go on a journey to impress Princess Jasmine and defeat Jafar while discovering the true meaning of friendship along the way. Unfortunately, Jafar, the supposed bad guy, isn't given enough depth for us to despise him.
Bringing to life a well-loved Disney animated classic on the big screen is a huge undertaking and Guy Ritchie is probably not the first director you'd think of to recreate the magic of this musical. But he brings a wealth of experience on the action and entertainment front that lends a hand in making this film an adventurous carpet ride.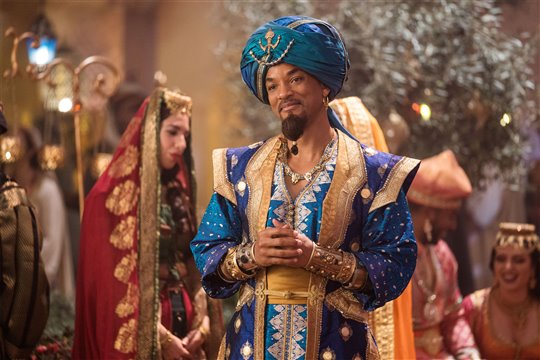 Will Smith is simply incredible as the Genie, making the character his own. The energy changes as soon as he appears on the screen -- with the audience cheering at his portrayal of the blue being. He's funny, he's kind and his energy is infectious -- just the way I remember Robin Williams' iconic take on Genie.
After 30 years in the business, Will knows how to entertain -- be it comedy, drama or action. He flushes out the Genie as a fabulously flamboyant being, who is also a great friend. He doesn't try to recreate the magic of Robin Williams, but adds his own Fresh Prince-meets-Hitch spin to the role. I'd take this Genie (with a side of Will) as a friend any day.
The wealth of charm and charisma Will brings is further depicted in the scenes in which Aladdin is trying to woo Princess Jasmine, quite unsuccessfully, with jam. That's one of my favorite scenes. The cheeky banter between Aladdin and his wingman is Arabian gold. Mena, more often than not, earnestly tries to match up to Will's infectious enthusiasm and has solid comic timing.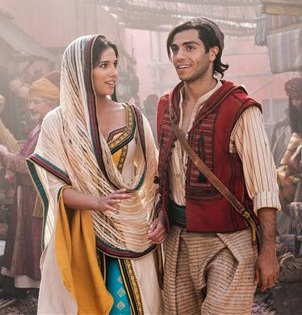 Aladdin as a character is fueled with innocence and sincerity from Mena's performance, truly making him a street rat with a heart of gold. He brings a fresh face, a jovial spirit and a roguish charm, with a certain fondness for Abu. I would have liked Aladdin's character to have more time to develop -- his character changes so dramatically that it's not very believable.
Naomi easily steals the spotlight when she's on-screen. Whether she's delivering her dialogue or singing out loud and hitting all the right notes -- she's an entertainer in every way. This girl's got a voice and captures the audience in a heartbeat. The new song "Speechless" is powerful as Jasmine, at first passive, decides to not stay silent any longer. It's a nice addition to the film's soundtrack.
I loved the Bollywood-style spin to the production numbers. "Prince Ali" is my favorite musical number. No expense was spared as elephants, other live animals and dancers fill up the screen, dancing to the famous routine. The influence of several cultures is quite evident -- from casting (Egyptian-Canadian Mena, British-Indian Naomi and Dutch-Tunisian Marwan, among others) to production to costume design. Ethnicity is well-represented and flies well with an audience that yearns for more diversity and representation on the big screen.
Having grown up watching the 1992 original animated film and the Aladdin cartoons, I am all too familiar with the characters. I was impressed with the way the film keeps the originality of the classic Aladdin, but adds a modern take. Our Genie, for example, loves to rap and I'd watch that on repeat any day. Princess Jasmine is a strong-minded character who will not go down quietly. She stands for equality in a kingdom that shuts down women  -- I loved how Disney tackled that element. Even Genie has a love interest this time: Jasmine's handmaiden Darla, played by Nasim Pedrad, who also leaves a memorable impression.
Ultimately, Aladdin is an entertaining carpet ride with a lamp full of visual appeal, a cast of diverse, talented actors and a magical tale of love and friendship. It might not be a whole new world, but it's one worth revisiting. ~Marriska Fernandes
If you have seen the film and would like to rate or review it yourself, click here. Click here to watch our interview with Mena Massoud.