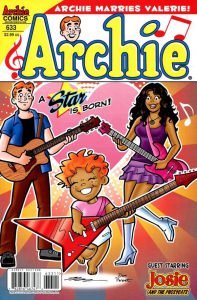 After the name of Meghan Markle and Prince Harry's son was announced earlier today, Archie Comics tweeted a tribute to the royal baby, which read, "I'm baby."
The tweet earned a slew of feedback, including a clever tweet from @sleekysammy, who wrote, "Ohhh...

it all makes sense now

and included the comic book displayed at left, which shows Archie, his wife Valerie and their red-headed baby with the caption, "A Star is Born!"
In case you haven't heard, the newest member of the Royal Family was named Archie Harrison Mountbatten-Windsor -- and his parents were quick to point out that his name is Archie, not Archibald. Archie is seventh in line to the throne.
The name "Archie" is now trending in the Number 1 spot on social media worldwide.




i'm baby


— Archie Comics (@ArchieComics) May 8, 2019