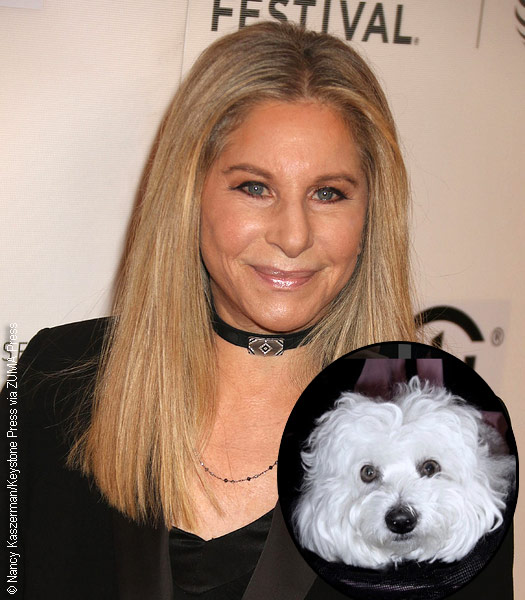 Barbra Streisand has had her late dog Samantha cloned -- not once, but twice. The price? Upwards of $100,000 per cloned dog.
Samantha, a Coton de Tulear (pictured at left in inset photo from Instagram), died last year at the age of 14. Streisand had DNA cells taken from the dog's mouth and stomach in order to clone two new dogs -- Miss Violet and Miss Scarlett.
In an interview with Variety, Streisand admitted the clones don't have the same personality as her late beloved pet, saying, "They have different personalities. I'm waiting for them to get older so I can see if they have her brown eyes and her seriousness."
This is standard with cloning -- although physical characteristics are carried over, the personality of a late animal does not.
This has animal lovers up in arms, criticizing Streisand for spending an exorbitant amount of money to clone dogs when there are many dogs who need homes desperately, not to mention the good the money that went towards cloning could do for humans in need through various charities.
PETA released a statement that read: "Animals' personalities, quirks, and very 'essence' simply cannot be replicated, and when you consider that millions of wonderful adoptable dogs are languishing in animal shelters every year or dying in terrifying ways when abandoned, you realize that cloning adds to the homeless-animal population crisis. And because cloning has a high failure rate, many dogs are caged and tormented for every birth that actually occurs — so that's not fair to them, despite the best intentions. We feel Barbra's grief at losing her beloved dog but would also love to have talked her out of cloning."
What do you think? Would you have a pet cloned? If your pet died, would you look within the same breed for similar physical characteristics or would you consider getting a dog from a shelter? Tell us your thoughts below. ~Alexandra Heilbron