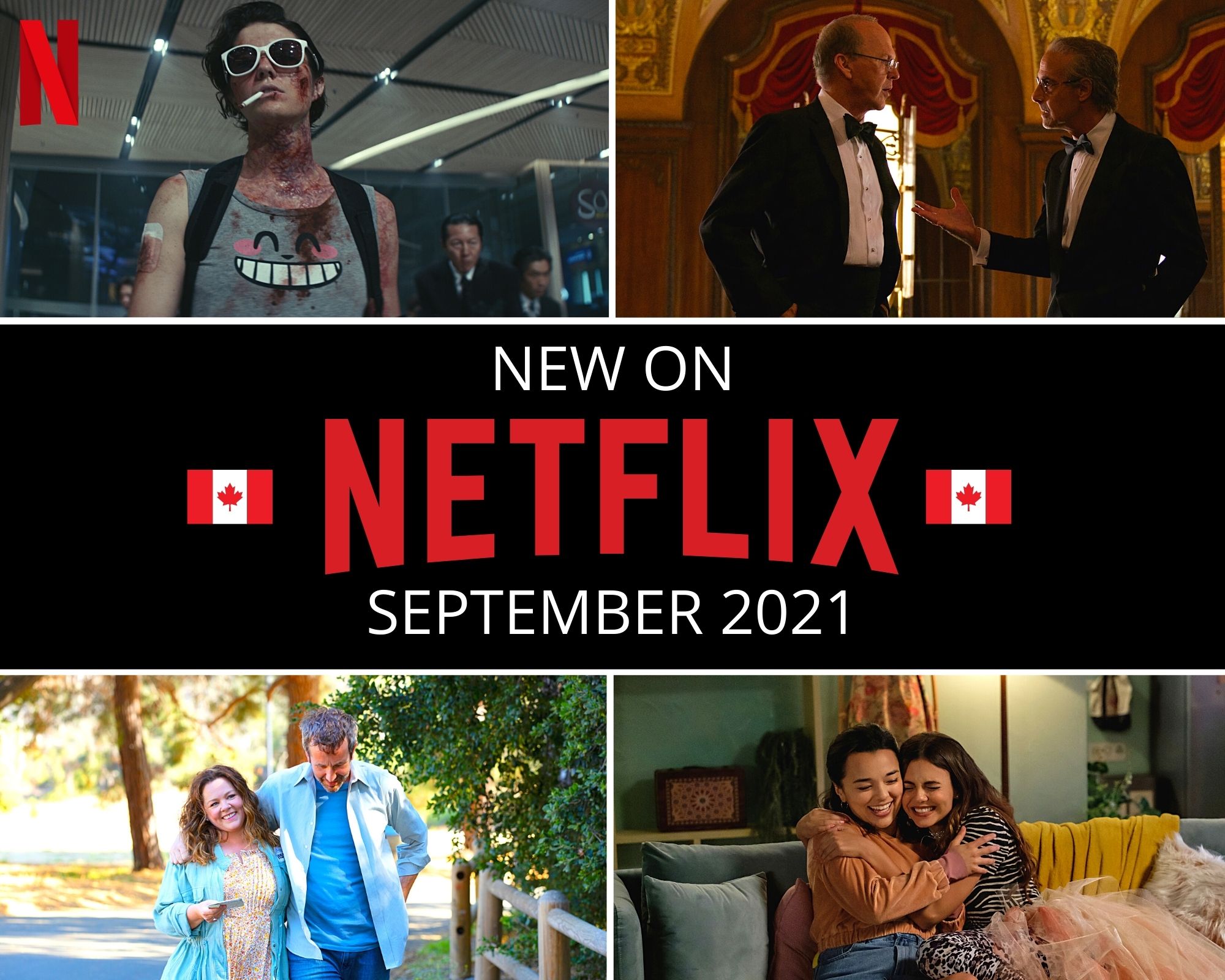 Say hello to fall! With cooler weather incoming, we have plenty to look forward to as the migration indoors means more time for catching up on the newest films and series. Read on for a sneak peak of what's coming to Netflix this September, from new seasons of your favorite shows to Netflix Original films like Worth and The Starling. ~Cassandra Coleman

For a detailed look at what's coming to the streamer this month, check out our photo gallery of original programming here!
Victoria Justice
 stars in 
Afterlife of the Party
as Cassie, an upbeat socialite who winds up dead after a drunken night out. To Cassie's surprise, she is given a second chance when her temporary guardian angel Val (Robyn Scott) tells her she has five days to right her wrongs with people on Earth. Success or failure will determine where she spends the rest of her days. Catch the flick on Netflix September 2!
In Worth, a clever lawyer (Michael Keaton) designs a formula for compensating the families of victims of 9/11. While some argue that compensation should equal economic value, applying the formula to real people -- families -- is far from simple. When a man (Stanley Tucci) whose wife died approaches Ken (Keaton) about his plan, Ken is forced to reconsider the value of individual lives as more and more people come forward with stories about lost loved ones. Watch it on Netflix starting September 3.
Kate (Mary Elizabeth Winstead) is a skilled assassin at the height of her career, at least until she blows an assignment in Tokyo and gets poisoned with only 24 hours to live. When she discovers her death was on the orders of a high ranking official, Kate goes to extreme lengths to draw him out in order to get revenge. As her body swiftly deteriorates from poison, the struggling assassin forms an unlikely bond with the teenage daughter of one of her past victims. Kate comes to Netflix September 10.
Melissa McCarthy stars in comedy-drama The Starling, coming to Netflix September 24. This TIFF selection film follows McCarthy's character, Lilly, after she suffers a life-altering loss. With her partner Jack (Chris O'Dowd) also struggling to find a way forward, Lilly turns to a local veterinarian for advice. Under his guidance, she finds an unlikely avenue for her grief when a feisty and territorial Starling bird takes over her garden, rediscovering her capacity for love along the way.
Take a look at the full list of programming below -- and also what's leaving the streamer.
September 1
Les 3 P'tits Cochons 2
And Now for Something Completely Different
The Blue Lagoon
The Bone Collector
Cemetery Junction
Chicago Fire: Seasons 1-4
The Darkest Hour
The Dead Don't Die
Driven
Edge of Tomorrow
Elizabethtown
Galaxy Quest
GoodFellas
Grease
The Hardy Boys: Season 1
How to Be a Cowboy - Netflix Series
Into the Wild
Jack and Jill
Jurassic Park
Jurassic Park III
Jurassic World
The Lego Movie
Lost in Translation
The Lost World: Jurassic Park
Maid in Manhattan
Mom: Seasons 1-8
Mother!
Ouija
PAW Patrol: Season 8
Project X
Public Enemies
The Queen
Rango
Sisters
The Shawshank Redemption
Sixteen Candles
The Spiderwick Chronicles
Step Brothers
Straight Outta Compton
Stretch (Netflix)
S.W.A.T.: Seasons 1-4
Turbo
Turning Point: 9/11 and the War on Terror - Netflix Documentary
Villains
Yesterday
September 2
Afterlife of the Party - Netflix Film
Double Jeopardy
Dumb and Dumber To
Q-Force - Netflix Series
Where'd You Go, Bernadette?
September 3
Dive Club - Netflix Family
Money Heist Part 5: Volume 1 - Netflix Series
Sharkdog - Netflix Family
Worth - Netflix Film
September 6
Countdown: Inspiration4 Mission to Space - Netflix Documentary
September 7
Kid Cosmic: Season 2 - Netflix Family
Octonauts: Above and Beyond - Netflix Family
On the Verge - Netflix Series
Untold: Breaking Point - Netflix Documentary
September 8
The Circle: Season 3 - Netflix Series
The Guide to the Perfect Family
Into the Night: Season 2 - Netflix Series
JJ+E - Netflix Film
September 9
Blood Brothers: Malcolm X & Muhammad Ali - Netflix Documentary
Homeland: Season 8
L.A.'s Finest: Season 2
The Women and the Murderer - Netflix Documentary
September 10
Firedrake the Silver Dragon - Netflix Family
Kate - Netflix Film
Lucifer: The Final Season - Netflix Series
Metal Shop Masters - Netflix Series
Prey - Netflix Film
September 11
Child's Play
September 12
The Wolf of Wall Street
September 13
Code 8
Countdown: Inspiration4 Mission to Space - Netflix Documentary
September 14
A StoryBots Space Adventure - Netflix Family
Fast & Furious Presents: Hobbs & Shaw
Jack Whitehall: Travels with My Father: Season 5 - Netflix Series
The World's Most Amazing Vacation Rentals: Season 2 - Netflix Series
You vs. Wild: Out Cold - Netflix Family
September 15
Castle and Castle: Season 2
Coming to America
Nailed It!: Season 6 - Netflix Series
Nightbooks - Netflix Film
Saved by the Bell: Seasons 1-9
Schumacher - Netflix Documentary
Stardust
Too Hot to Handle Latino - Netflix Series
September 16
Final Space: Season 3 - Netflix Series
He-Man and the Masters of the Universe - Netflix Family
Murdoch Mysteries: Season 14
My Heroes Were Cowboys - Netflix Documentary
Zombieland: Double Tap
September 17
Ankahi Kahaniya - Netflix Film
Chicago Party Aunt - Netflix Series
The Father Who Loves Mountains - Netflix Film
Sex Education: Season 3 - Netflix Series
Squid Game - Netflix Series
The Stronghold - Netflix Film
September 20
Crawl
September 21
Doctor Sleep
Go!Go! Cory Carson: Chrissy Takes the Wheel - Netflix Family
Love on the Spectrum: Season 2 - Netflix Series
September 22
Confessions of an Invisible Girl - Netflix Series
Dear White People: Volume 4 - Netflix Series
Heartland: Season 14
The Ice Road
Intrusion - Netflix Film
Jaguar - Netflix Series
Monsters Inside: The 24 Faces of Billy Milligan - Netflix Documentary
September 23
Je Suis Karl - Netflix Film
September 24
Blood & Water: Season 2 - Netflix Series
Ganglands (Braqueurs) - Netflix Series
Iron Man 2
Jailbirds New Orleans - Netflix Series
Midnight Mass - Netflix Series
My Little Pony: A New Generation - Netflix Family
The Starling - Netflix Film
Vendetta: truth, Lies and The Mafia - Netflix Documentary
September 27
Judy
September 28
Ada Twist, Scientist - Netflix Family
Attack of the Hollywood Clichés! - Netflix Comedy Special
September 29
The Chestnut Man - Netflix Series
Friendzone - Netflix Film
MeatEater: Season 10 Part 1 - Netflix Series
No One Gets Out Alive - Netflix Film
Sounds Like Love - Netflix Film
September 30
Grey's Anatomy: Season 17
Love 101: Season 2 - Netflix Series
Luna Park - Netflix Series
LAST CALL
Leaving September 10
Interstellar
Leaving September 14
Ferris Bueller's Day Off
Leaving September 29
Line of Duty: Seasons 1-4
Leaving September 30
Kill Bill: Vol. 1
Kill Bill: Vol. 2