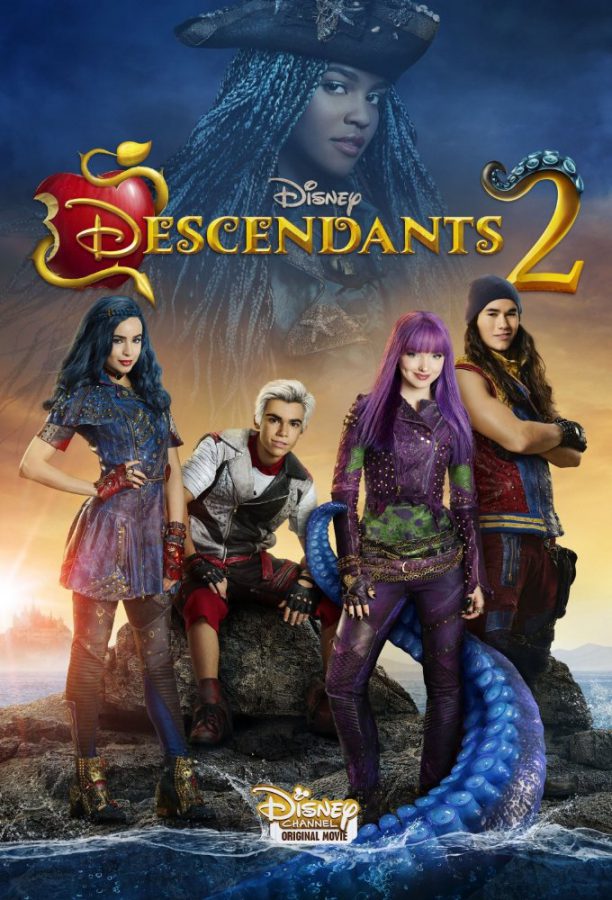 The 2015 Disney Channel original movie Descendants was such a success that an animated series was immediately launched and a sequel was put into the works. Titled simply Descendants 2, it stars the original leads -- Disney regulars Dove Cameron (Liv and Maddie) and Cameron Boyce (Jessie), as well as Sofia Carson, Booboo Stewart and Mitchell Hope.
In the first movie, Mal (Cameron), Evie (Carson), Jay (Stewart) and Carlos (Boyce) are invited to leave their home on the Isle of the Lost, where Disney villains live, to attend school in idyllic Auradon, where Ben (Hope), the son of Beauty and the Beast, reigns.
The movie picks up where the first one left off, but Mal is now feeling discontent. She and King Ben are in love, but being his girlfriend means she has to be perfect all the time and deal with the constant demands of the Auradon paparazzi and press. She longs for the days when no one expected perfection from her -- when she could be bad and do whatever she wanted.
In contrast, her three friends are happy in Auradon and they don't understand what Mal is going through. Finally, she's had enough of pretending to be something she's not, and returns to the Isle. Her friends quickly realize they should have paid more attention to Mal's problems and go to rescue her.
Meanwhile, the other kids living on the Isle resent the four who were chosen. Uma (played by China Anne McClain of Disney Channel series A.N.T. Farm), the daughter of villain Ursula, has been building up serious resentment towards Mal. As TV screens play constant updates of King Ben and Mal, her anger grows and she vows -- along with her friends, Harry (the son of Captain Hook) and Gil (the son of Gaston) -- to get back at the girl one day.
Needless to say, when these two groups meet up, there are fireworks.
The performances in this sequel were even more well-rounded than in the first one. While the first movie belonged to Dove Cameron, this time it was Sofia Carson who had a chance to shine. As Evie, she was a sympathetic, warm character who showed an enormous amount of empathy for everyone with whom she came into contact. Cameron Boyce, the youngest of the leads, also gave a more in-depth and sincere performance as Carlos, who is starting to notice girls. It was a nice change from his role on the Disney Channel series Jessie, giving him a chance to use more of his acting abilities. His dancing is also off the chart -- all the lead "villain kids" are amazing dancers, but his moves are particularly impressive.
This movie introduces us to a character named Dizzy. She's the granddaughter of Cinderella's wicked stepmother, but for a villain kid, she's a sweetheart. Her biggest wish is to follow in Evie's footsteps and go to Aurodon to attend school. Vancouver native Anna Cathcart shines positive energy in the role and steals every scene she's in.
This movie has several wonderful messages for kids -- don't pretend to be someone you're not; always be there for your friends; help those who are less fortunate; violence never solves anything and sometimes, people are just evil and you can't help them no matter how good you are to them.
The bonus features on the DVD include Cast Secrets, in which Dove Cameron, Sofia Carson, Cameron Boyce, Booboo Stewart and China Anne McClain sit down together to talk about their favorite musical numbers, their favorite character and tell one secret about working on the film that fans wouldn't otherwise know about. There's a selection of Bloopers, a beautiful deleted song titled "If Only," an extended version of the song "The Space Between," and Descendants: Wicked World, which is a collection of the animated shorts from Season One. As a bonus, this DVD comes with a free necklace and five villain icons.
Descendants 2 is available on DVD starting August 15, 2017. If you have seen Descendants 2 and would like to rate/review it, click here.