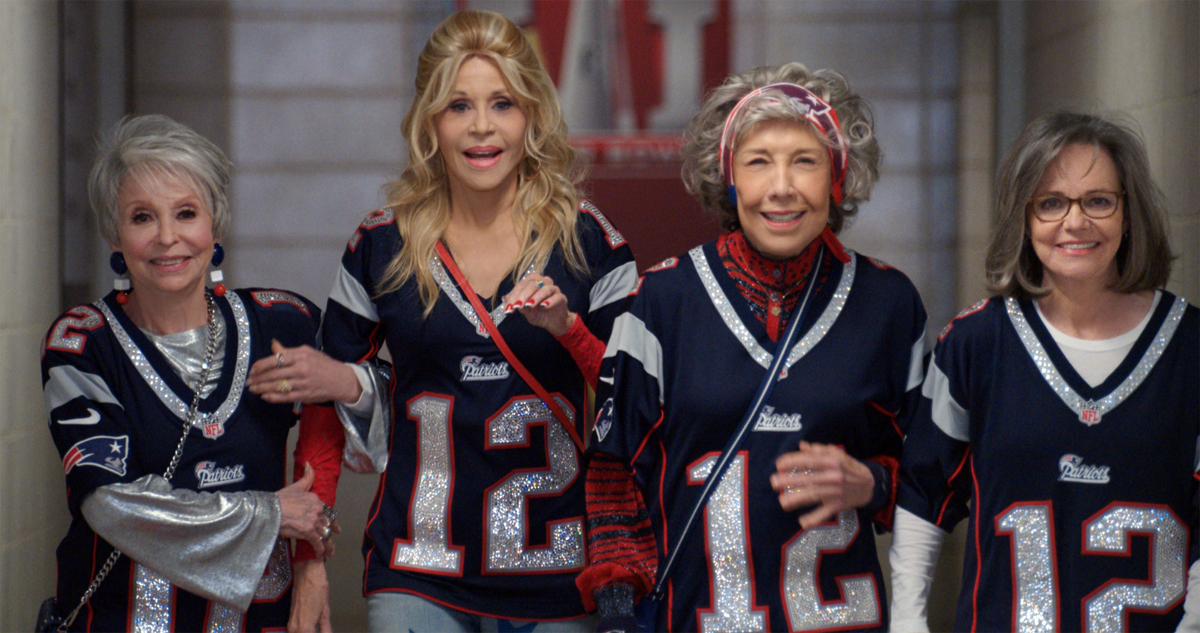 The comedy 80 for Brady opens in theaters this weekend, along with M. Night Shyamalan's new horror movie, Knock at the Cabin. Check them out below, as well as all the other movies opening across Canada. ~Alexandra Heilbron
80 for Brady - Four best friends (Lily Tomlin, Jane Fonda, Rita Moreno, Sally Field) gather together to watch the New England Patriots play football on television. When a contest for four tickets to the Super Bowl is announced, they decide to enter so they can all go away on a weekend adventure to see their hero Tom Brady play. Click here for tickets. Click here to read our review.
Knock at the Cabin - A young girl and her two fathers (Jonathan Groff, Ben Aldridge) go on vacation to a remote cabin in a forest. A man (Dave Bautista) comes from the woods and is soon joined by three others (Rupert Grint, Nikki Amuka-Bird, Abby Quinn). He tells them they're there to prevent the apocalypse and to do that, they have to ask the family to make a terrible decision. Click here for tickets.
BTS: Yet to Come in Cinemas - Join RM, Jin, SUGA, j-hope, Jimin, V and Jung Kook in this special cinematic cut featuring hit songs from across the group's career, including "Dynamite," "Butter" and "IDOL," plus the first concert performance of "Run BTS" from the group's latest album Proof. Playing until Sunday, February 4. Click here for tickets.
The Chosen Season 3 Finale - Season 3 of The Chosen comes to a stunning conclusion. Simon and Eden face marital crisis, Matthew's faith takes a turn, and the thousands of people following Jesus grow restless... until a boy brings some loaves and fishes. Playing until Monday, February 6. Click here for tickets.
Sword Art Online the Movie: Progressive – Scherzo of Deep Night - Two months have passed since the deadly game began, and Kirito and Asuna continue to make progress. They stop for treasure, but then must face Asuna's least favorite monster. Playing in select cities. Click here for tickets.
Kali Jotta - A pure-hearted girl named Anant searches for her school teacher Raabia. The plot gets its final turn and wraps up through dealing with the complexities and complications of the major characters that raise various questions and disagreements towards the politics of gender performativity in Indian cultural system. Playing in select cities. Click here for tickets.
Alice, Darling - Alice (Anna Kendrick) is pushed to the breaking point by her psychologically abusive boyfriend, Simon. While on vacation with two close girlfriends, Alice gains some much-needed perspective. Slowly, she starts to fray the cords of codependency. But Simon's vengeance is as inevitable and, once unleashed, it tests Alice's strength and courage. Playing in Toronto, Montreal. Click here for tickets.