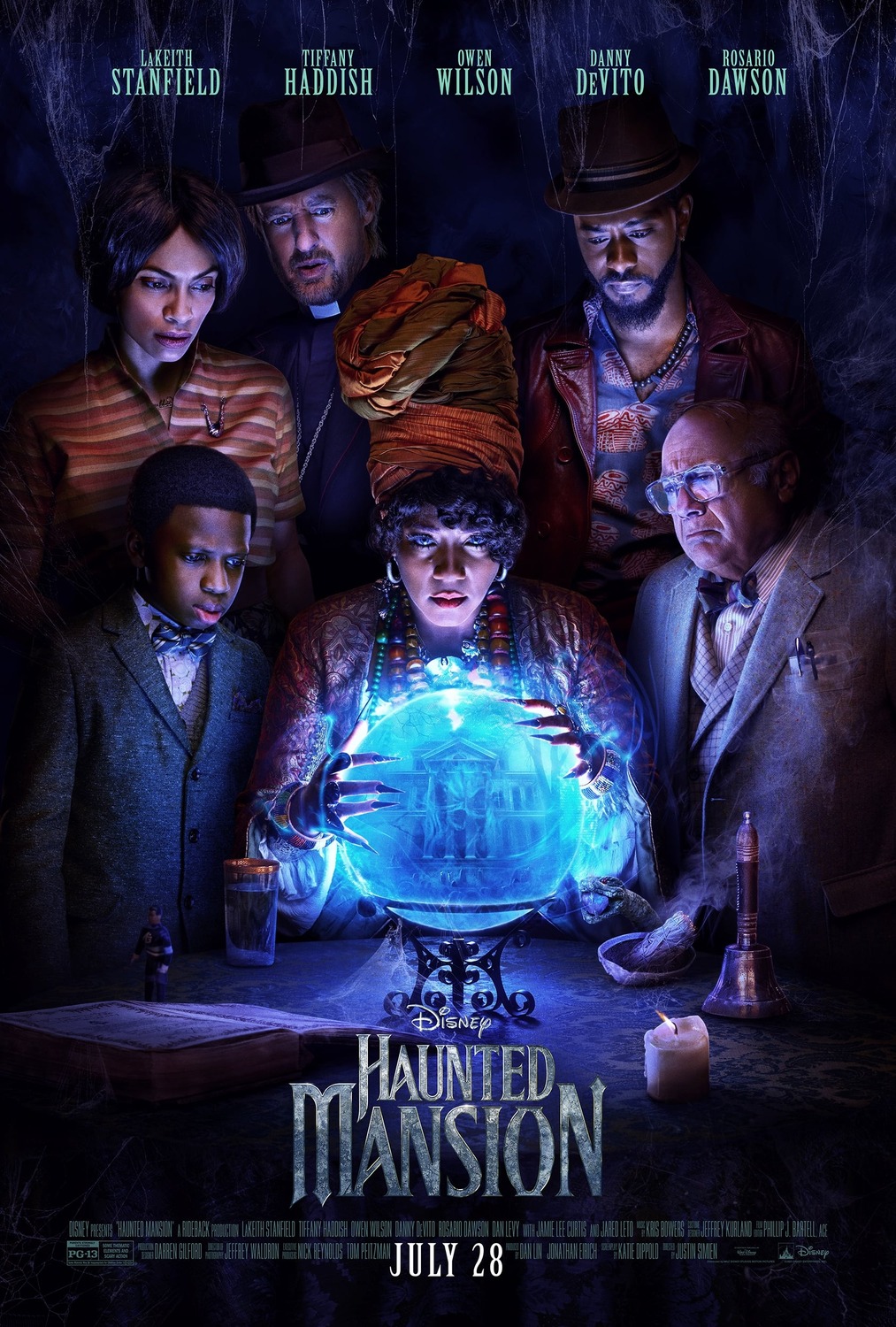 Disney's Haunted Mansion is debuting in theaters this weekend, along with the new horror film Talk to Me and several more movies. Check them all out below and watch all the trailers for the films opening this week to decide what you want to watch at the movies. ~Alexandra Heilbron
Haunted Mansion - A single mom (Rosario Dawson) hires a tour guide (LaKeith Stanfield), a psychic (Tiffany Haddish), a priest (Owen Wilson), and a historian (Danny DeVito) to help exorcise their newly bought mansion after discovering it is inhabited by ghosts.
Once entering the mansion, there appears to be no way out as halls twist, doors disappear, and the spirits in the house aim to add another to their list. Led by Madame Leota (Jamie Lee Curtis) and Hatbox Ghost (Jared Leto), the spirits play on the residents' fears and strike when they least expect it. Click here for showtimes.
Talk to Me – When a group of friends discover how to conjure spirits using an embalmed hand, they become hooked on the new thrill. Participants can only use the hand for 90 seconds, as anything past that will allow the spirit to stay in them. Click here for showtimes.
The First Slam Dunk - Shohoku's "speedster" and point guard, Ryota Miyagi, always plays with brains and lightning speed, running circles around his opponents while feigning composure. Born and raised in Okinawa, Ryota took after his older brother, a famous local player. In his second year of high school, Ryota plays with the Shohoku High School basketball team along with Sakuragi, Rukawa, Akagi, and Mitsui as they take the stage at the Inter-High School National Championship. And now, they are on the brink of challenging the reigning champions, Sannoh Kogyo High School. Playing in select cities. Click here for showtimes.
The Beanie Bubble – Why did the world suddenly treat stuffed animals like gold? Ty Warner (Zach Galifianakis) was a frustrated toy salesman until his collaboration with three women grew his masterstroke of an idea into the biggest toy craze in history. The Beanie Bubble is an inventive story about what and who we value, and the unsung heroes whose names didn't appear on the heart-shaped tag. Playing in select cities. Click here for showtimes.
North of Normal - Based on her riveting memoir, North of Normal follows Cea Sunrise Person's unconventional childhood in the wilderness, her complicated relationship with her perpetually pot-smoking teen mom, and her incredible path to a version of normalcy on the runways of Paris. Playing in select cities. Click here for showtimes.
Kokomo City - Four Black transgender women who work as sex workers explore the dichotomy between the Black community and themselves while confronting issues long avoided. Playing in Toronto, Vancouver, Montreal and Quebec City. Click here for showtimes.