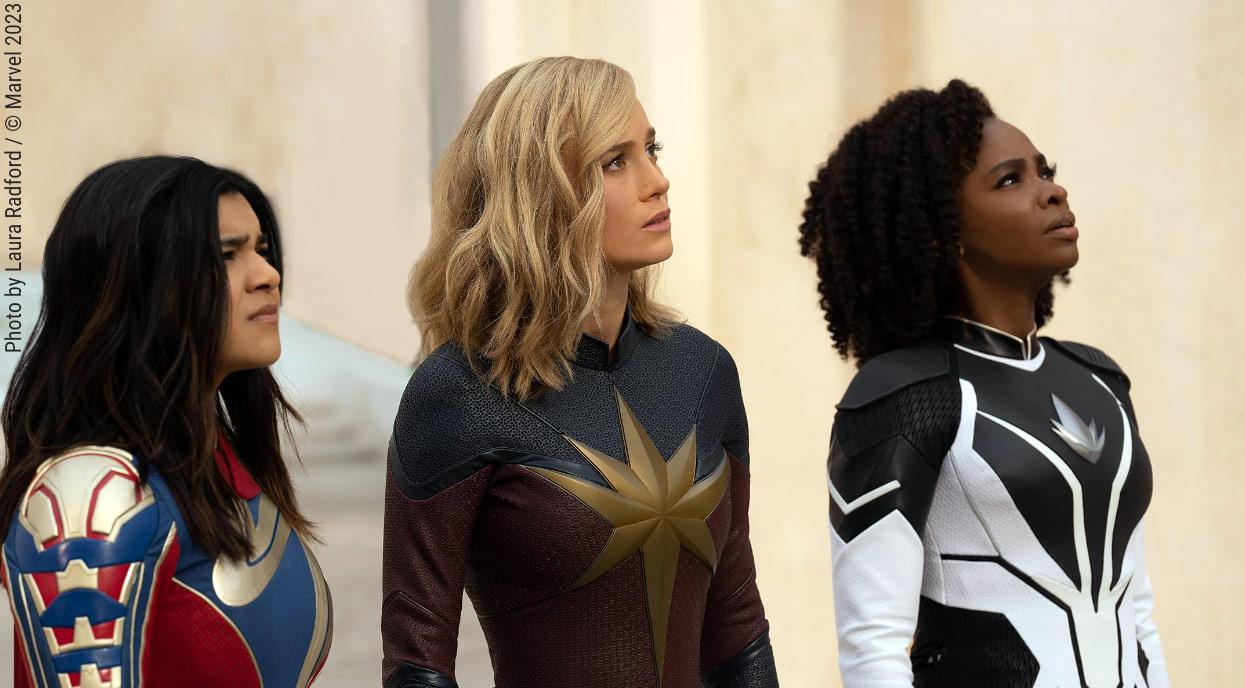 Check out all the new movies opening this weekend across Canada, including the much-anticipated movie The Marvels starring Brie Larson. Find all the new releases below and watch the trailers to decide what you want to see at the movies. ~Alexandra Heilbron
The Marvels - When Carol Danvers (Brie Larson) aka Captain Marvel is sent to a wormhole linked to a Kree revolutionary, her powers become entangled with that of Jersey City super-fan Kamala Khan (Iman Vellani), aka Ms. Marvel, and Carol's estranged niece, now S.A.B.E.R. astronaut Captain Monica Rambeau (Teyonah Parris). Together, this unlikely trio must team up and to save the universe as "The Marvels." Available in 2D, 3D, IMAX & IMAX 3D. Click here for showtimes.
Journey to Bethlehem - A young woman carrying an unimaginable responsibility. A young man torn between love and honor. A jealous king who will stop at nothing to keep his crown. This live-action Christmas musical celebration weaves classic Christmas melodies into new pop songs in a music-infused retelling of the timeless story of Mary and Joseph and the birth of Jesus. Click here for showtimes.
The Holdovers - A curmudgeonly instructor (Paul Giamatti) at a New England prep school is forced to remain on campus during Christmas break to babysit the handful of students with nowhere to go. He forms an unlikely bond with one of them -- a damaged, brainy troublemaker -- and with the school's head cook, who has just lost a son in Vietnam. Click here for showtimes.
The Royal Edinburgh Military Tattoo 2023: Stories - The Royal Edinburgh Military Tattoo is returning to cinemas with its brand new 2023 show titled Stories. Set against the spectacular backdrop of Edinburgh Castle, the Tattoo Arena will play host to impressive cultural showcases including participants from Norway, USA, Australia, Trinidad and Tobago and Switzerland. Playing November 11 only. Click here for showtimes.
Napoleon: In the Name of Art - To mark the 200th anniversary of Napoleon's death, this documentary explores the complex relationship between Napoleon, culture and art. A unique tour from Brera Academy in Milan to the Louvre in Paris in the company of the best art historian experts and Jeremy Irons, who passes his fascination to the viewers. Playing November 9 and 12 only. Click here for showtimes.
The Prince of Egypt: The Musical - Featuring the music of Stephen Schwartz, this critically acclaimed production with an original London cast tells a tale of resilience and hope. Two young men, raised together as brothers in a kingdom of privilege, find themselves suddenly divided by a secret past. One must rule as Pharaoh, the other must rise up and free his true people. Playing November 12 and 13 only. Click here for showtimes.
It's a Wonderful Knife - A year after saving her town from a psychotic killer, Winnie Carruthers finds herself in a nightmare parallel universe where without her, things are much, much worse. Playing in select cities. Click here for showtimes.
Full Circle - In 2014, Trevor Kennison's life was forever altered by a broken back. Barry Corbet, an intrepid skier, mountaineer, explorer, filmmaker, and Jackson Hole legend, broke his back in a helicopter crash in 1968. Frustrated by a pre-ADA culture that did not accept or support the disabled, Barry reinvented himself, becoming a leader in the disability community. Full Circle follows Trevor on a path towards post-traumatic growth in parallel with Barry, 50 years later. Their stories mirror each other, connected through time and space by common locations and motifs. Playing in select cities. Click here for showtimes.
Another Body - A college student searches for justice after she discovers deepfake pornography of herself circulating online. Playing in Toronto. Click here for showtimes.
The Lebanese Burger Mafia - Filmmaker and heir to a Burger Baron franchise, Omar Mouallem captures the relentless battle over the chain's trademark rights in this documentary. The rogue fast-food chain has mysterious origins, a cult following and a secret pathway to the immigrant dream. Playing in Toronto; opens November 17 in Ottawa/Saskatoon and November 18 in Edmonton. Click here for showtimes.