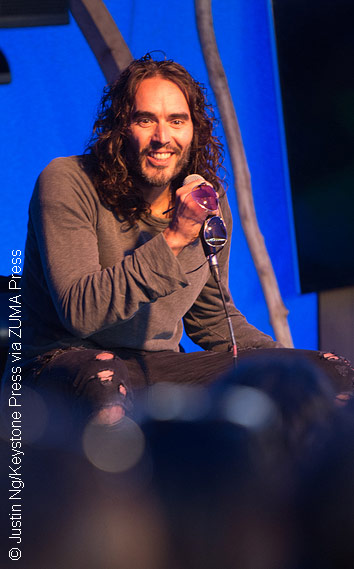 British comedian/actor Russell Brand has landed a deal with streaming giant Netflix to record a stand-up comedy special of his live show Re:Birth at the Hackney Empire in London, England on April 18 and 19.
Brand is currently touring the show, which has a total of 75 dates, that will end in November 2018.
He tweeted on Wednesday about the show, jokingly describing it as: "All the glamour of 'The Crown' (and some of the controversy) with the suspense of 'Making A Murderer' BUT with a happy ending, It's 9 hours long. And the pyrotechnics are dazzling."
Much of the material featured in Re:Birth is about being a father to his 15-month-old daughter Mabel with wife Laura Gallacher.
In the show, Brand asks, "What happens if she grows up to be like me? Or, worse, to date someone like me?"
Brand has starred in Hollywood motion pictures such as Rock of Ages (2012), Arthur (2011) and Get Him to the Greek (2010), as well as the independent film Army of One opposite Nicolas Cage in 2016.
More recently, he's provided voices for films such as Despicable Me 2 (2013), Trolls (2016) and Despicable Me 3 (2017). ~Alexandra Heilbron



Dear @NetflixIsAJoke I've got a lot of jokes/theories that you should put on as a 'Special'. All the glamour of The Crown (& some of the controversy) with the suspense of Making A Murderer BUT with a happy ending. You want it?


— Russell Brand (@rustyrockets) January 31, 2018