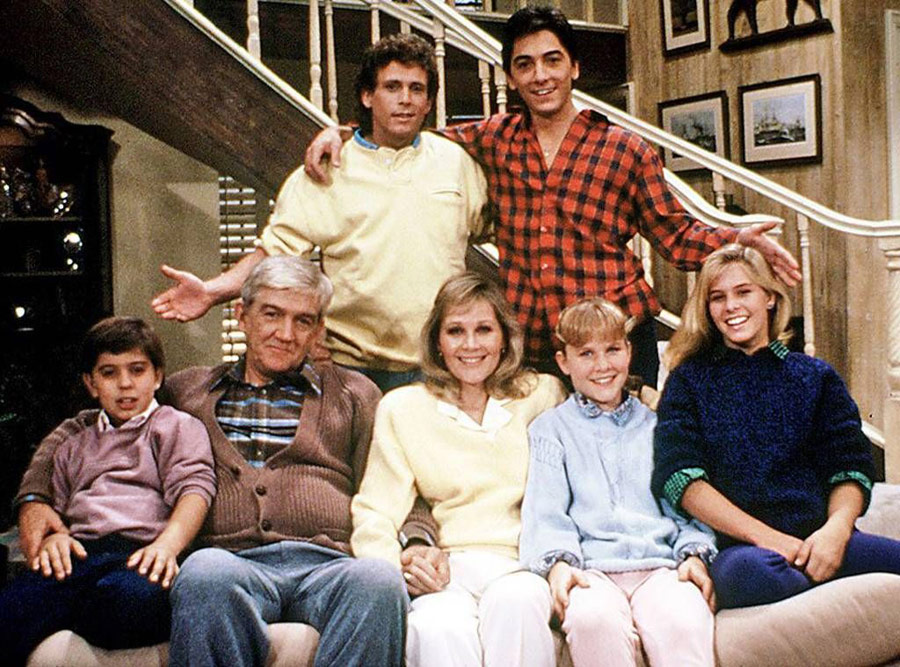 In response to Nicole Eggert's claims that he molested her during the time she played a role on the sitcom Charles in Charge from the time she was 14, Scott Baio (pictured above in plaid shirt) appeared on Good Morning America today to ask her to "please stop."
Baio starred as the title character on the show, which debuted in 1984. Nicole (seated at far right in the photo above) joined the cast in 1987, when she was 14. Nicole told Megyn Kelly on Tuesday that Scott molested her "more than 10 times, more like probably once a week" during her three years on the show. She says they had sex in her parent's house when she was 17. Earlier, she claimed it was after the show ended its run, but at that time she was 18, which is legal age in California.
Baio insists she was 18 when they had intercourse, and denies all claims of underage molestation. He says they would never have been alone together on the set, where there were parents of all the child actors present, in addition to producers, directors, cast, etc.
"It was impossible because when a child is on a set, they're either in school or they're on the set with a teacher and their parents," he said. He added that Nicole "makes up new things and by the way, I am not the first person she's done this to."
However, when he was confronted with the fact that two Charles in Charge castmates, who were child actors at the time -- Alexander Polinsky (seated at far left in the photo above) and Adam Carl -- have corroborated Nicole's story, saying that they witnessed Scott behaving inappropriately towards her, Scott was at a loss.
"I don't know what they're saying. I have no idea. I don't know why they're saying it. I don't -- there were so many people on that set," he said. "Nobody said anything until -- and by the way, Nicole and I were friends after our only sexual encounter, where she aggressively sought me out because she wanted me to be her first so that she would be good for her boyfriend, those are her words."
However, Nicole said of the sexual encounter, "He didn't treat me well on set after it happened. He was quite mean to me."
According to TMZ, Nicole, who said on Tuesday she's considering filing a police report, was spotted in New York City today, where she claimed to be heading to Los Angeles to file a sexual battery report.
Scott said on GMA that the "false allegations" are not only damaging his reputation, but he's worried about the effect this will have on his daughter, Bailey. He said, "My 10-year-old daughter does not need to be hearing about this from friends at school. Her job is to be 10 years old, and that's why this has got to stop." ~Alexandra Heilbron