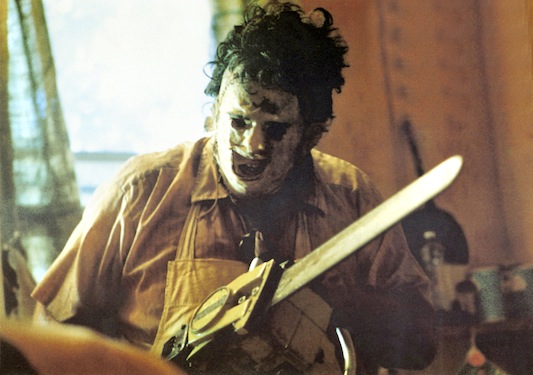 Tobe Hooper, the director known for helming horror film classics such as The Texas Chain Saw Massacre and Poltergeist, has sadly passed away.
Hooper died over the weekend on Saturday (Aug 26) in Sherman Oaks, California, of natural causes. He was 74 years old.
The Austin, Texas native is a horror fan favorite as he brought some of the scariest movies to the big screen. Based loosely on true events, 1974's The Texas Chain Saw Massacre tells the tale of a group of friends that become the victims of choice for a group of cannibals.
The Texas Chain Saw Massacre became one of the most popular and influential horror films, even spawning a remake in 2003. Horrifyingly scary and realistic, the original film was made on a $300,000 budget but grossed over $30.8 million domestically, making it one of the most profitable independent films in the '70s. Hooper went on the direct the film's sequel, The Texas Chain Saw Massacre 2, in 1986.
Between the first and second Chain Saw Massacre movies, Hooper hit it big with another staple in the horror film genre -- 1982's Poltergeist. Produced and written by fellow legendary director Steven Spielberg, the film about a family tormented by a host of demons in their home is easily one of the best films in the genre and a favorite among film fans.
But Hooper also had success on the small screen. His 1979 TV adaptation of Stephen King's classic novel Salem's Lot on CBS is regarded by many as one of the best representations of the horror genre seen on television.
Other works by the talented director include the music video for '80s rocker icon Billy Idol's song "Dancing With Myself," as well as a book he co-wrote titled Midnight Movie.
His last film, Djinn, was released in 2013 and tells the story of a couple that arrive at their new apartment to find it is haunted by malevolent beings.
Other horror directors and writers, including James Wan, John Carpenter and Stephen King, who admired Hooper's work, have been paying tribute via Twitter. You can see their posts below.
Hooper is survived by his two sons. ~Alexa Caruso




Sad to hear the passing of Tobe Hooper. One of the nicest people. A sweet, gentle soul of a man. Your legacy lives on. #RIP


— James Wan (@creepypuppet) August 27, 2017



Tobe Hooper directed THE TEXAS CHAINSAW MASSACRE, a seminal work in horror cinema. He was a kind, decent man and my friend. A sad day.


— John Carpenter (@TheHorrorMaster) August 27, 2017



Sorry to hear Tobe Hooper passed. He did a terrific job directing the 'SALEM'S LOT miniseries, back in the day. He will be missed.


— Stephen King (@StephenKing) August 27, 2017