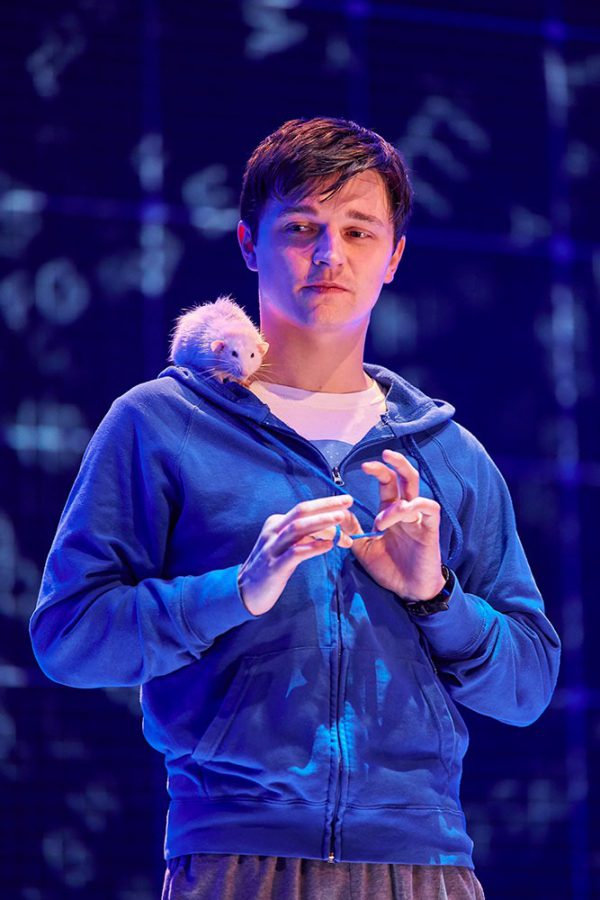 I had been hoping to see The Curious Incident of the Dog in the Night-Time since I found out it was being brought to Toronto. The book it's adapted from is one I have heard great things about. I've been procrastinating about reading it for years, but it deals with a topic close to my heart.
The lead character, Christopher Boone, is a 15-year-old boy who likely has Autism Spectrum Disorder (ASD), although it's not the focal point of the story. Neither the book's author or the writer of the stage adaptation diagnose Christopher, because the story is not about ASD, it's about Christopher, who goes to a special school, is brilliant at math and has a different view of the world.
The show follows Christopher (Joshua Jenkins) from the moment he discovers his neighbor's dog dead in her garden, killed with a pitchfork. Christopher is immediately a suspect, but he vows to investigate and find the true killer.
Without giving too much of the mystery away, it also deals largely with family and Christopher forcing himself to do things he is uncomfortable with to get the answer to who killed his neighbor's dog and to questions he didn't known existed at the start of the tale.
The first half is narrated by his teacher Siobhan (Julie Hale), as she reads the book Christopher writes about his journey as a class assignment, while the second half is presented as a play within a play.
The Curious Incident is incredibly captivating and beautifully complex. The set is a simplistic cubed grid with video projections on the walls and floor. Hidden in the set are cupboards hiding most of the props. A table gets pulled out of one of them, and the changes are done through beautifully choreographed movements by the cast as scenes progress. The visual simplicity of the set allows you to immerse yourself more deeply in the story.
The set allows the audience to see what's happening through Christopher's mind. At times the audio and visuals are completely overwhelming, and it's intentional. It allows the audience to experience the type of sensory over-stimulation that many who have ASD deal with constantly. Other times they are incredibly simple -- for example, one scene focuses on solely on the rain while Christopher stands center stage, talking.
At times it feels more like a ballet than anything else. During a moment in which Christopher talks about his past desire to be an astronaut, the rest of the cast is lifting him and moving him through the air as if he could actually be in zero gravity, while stunning projections of stars and planets make it seem like you're actually in one of his dreams.
The Curious Incident of the Dog in the Night-Time is emotionally compelling and shouldn't be missed. It runs until November 10 at the Princess of Wales Theatre in Toronto. ~Hayley Michaud