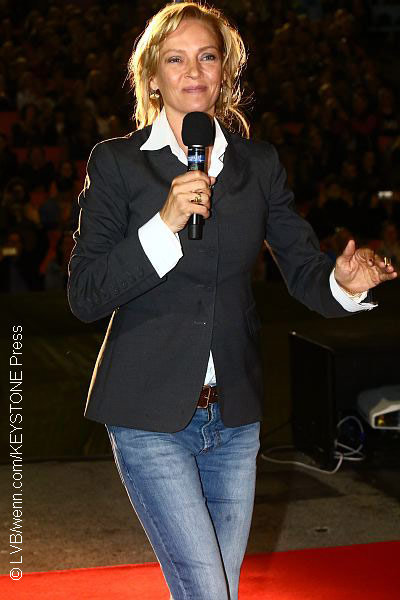 Disgraced movie mogul Harvey Weinstein has been accused of sexual assault by yet another actress, Uma Thurman, who starred in several Weinstein-produced films.
In a New York Times article by op-ed columnist Maureen Dowd, Uma Thurman revealed the details of how she was one of Harvey's victims. She came to know the producer and his wife after working on Pulp Fiction. 
"I knew him pretty well before he attacked me. He used to spend hours talking to me about material and complimenting my mind and validating me. It possibly made me overlook warning signs. This was my champion. I was never any kind of studio darling. He had a chokehold on the type of films and directors that were right for me."
She revealed that the first alleged "attack" happened in Harvey's suite at the Savoy Hotel in London. "It was such a bat to the head. He pushed me down. He tried to shove himself on me. He tried to expose himself. He did all kinds of unpleasant things. But he didn't actually put his back into it and force me. You're like an animal wriggling away, like a lizard. I was doing anything I could to get the train back on the track. My track. Not his track."
After this incident, she warned Weinstein: "If you do what you did to me to other people you will lose your career, your reputation and your family, I promise you."
A Weinstein spokesperson released a statement reading: "Mr. Weinstein acknowledges making an awkward pass 25 years ago at Ms. Thurman in England after misreading her signals, after a flirtatious exchange in Paris, for which he immediately apologized and deeply regrets. However, her claims about being physically assaulted are untrue."
Uma went to director Quentin Tarantino (who has since admitted he knew about Weinstein's behavior since the mid-1990s, when his then-girlfriend Mira Sorvino told him about how Weinstein treated her) about the alleged attack, who claims to have confronted Harvey. It was then that she received an apology she calls "half-assed."
The actress still carries the guilt of not speaking up sooner. She said: "I am one of the reasons that a young girl would walk into his room alone, the way I did. Quentin used Harvey as the executive producer of Kill Bill, a movie that symbolizes female empowerment. And all these lambs walked into slaughter because they were convinced nobody rises to such a position who would do something illegal to you, but they do."
She ended the article explaining how girls accept abuse from birth and it's time to end that era. "Personally, it has taken me 47 years to stop calling people who are mean to you 'in love' with you. It took a long time because I think that as little girls we are conditioned to believe that cruelty and love somehow have a connection and that is like the sort of era that we need to evolve out of." ~Marriska Fernandes