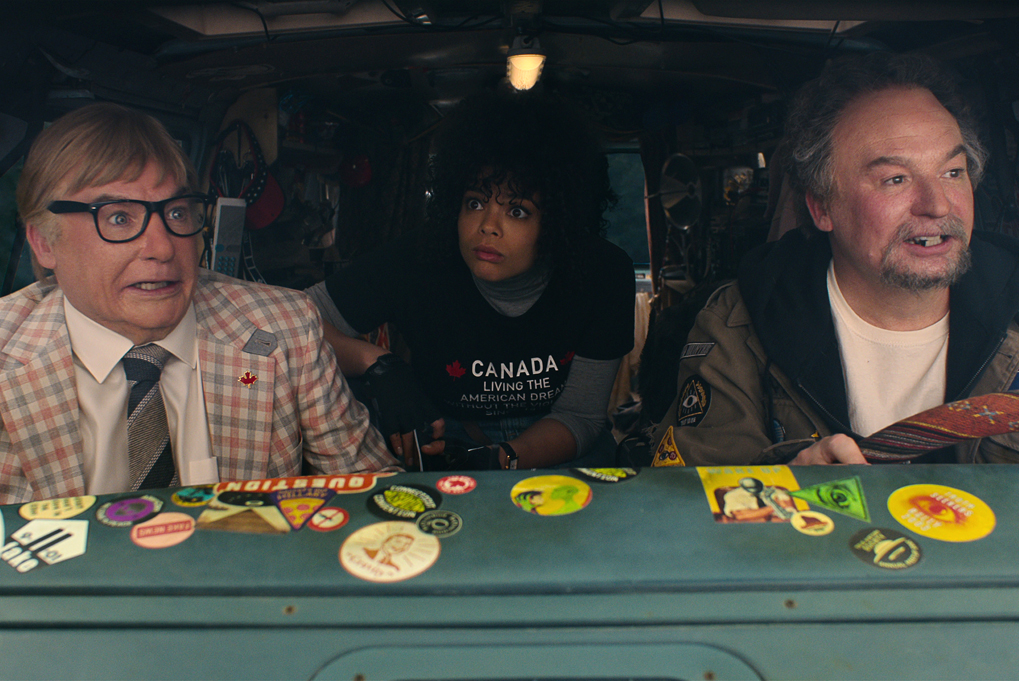 Find out what to watch this week on Netflix, Prime Video, Disney+, Apple TV+, BritBox, CBC Gem, Paramount+ and more, including  The Pentaverate created by and starring Mike Myers, as well as what's new on DVD and Blu-ray. Check out the full list below and watch the trailers. ~Alexandra Heilbron
The Pentaverate - What if a secret society of five men has been working to influence world events for the greater good since the Black Plague of 1347? As this new series begins, one unlikely Canadian journalist (Mike Myers) finds himself embroiled in a mission to uncover the truth and just possibly save the world himself. Remember, the Pentaverate must never be exposed! Debuts May 5 on Netflix.
The Unsolved Murder of Beverly Smith - Beverly Smith was just 22 years old when she was murdered in her own home with a single shot to the back of the head on December 9, 1974. The case goes cold, but the police never forget the murder. Almost five decades later, it gets a fresh look. Debuts May 6 on Prime Video.
Turning Red - Meilin (Rosalie Chiang) is a typical middle-schooler who's excited about attending the concert of her favorite music group. When Meilin wakes up one morning to find she's become a giant red panda, she can't believe her eyes. Although she tries to hide what's happened, she discovers her mother Ming (Sandra Oh) isn't surprised, and wants to help her. In the meantime, Meilin keeps turning into a giant red panda whenever she gets excited, which is often. Available May 3rd on DVD and Blu-ray.
Turning Red star Rosalie Chiang talks about voicing Meilin and Sandra Oh talks about voicing Meilin's mother, Ming. They discuss studying red pandas, coming to Toronto, where the film is set, and their own experiences trying to gain independence from their parents, as Meilin goes through in the movie.
Stu's Show - The fascinating story of how TV historian and archivist Stu Shostak wound up becoming very good friends with Lucille Ball and many other classic TV icons through his work on various television programs. It also tells the story of how he met his wife and helped her through a life-altering brain aneurysm. Available May 2 on Digital.
Stu Shostak gives insight into his friendship and working relationship with Lucille Ball in his documentary Stu's Show. He discusses how the biopic Being the Ricardos compares to his memories of Lucille Ball and reveals who his favorite guests have been on his talk show. He also reveals that one reason he did the documentary was to help others whose loved ones have had debilitating illnesses, like his wife Jeanine, navigate the medical system.
Marmaduke - Messy and mischievous Marmaduke (voice of Pete Davidson) has a big heart but can't stay out of trouble! Does he have what it takes to shine in the swanky dog show world? Debuts May 6 on Netflix.
May 2
Octonauts: Above & Beyond: Season 2 (Netflix)
Stu's Show (Digital)
May 3
Acapulco Shore: Season 1-8 (Paramount+)
Belle (Digital)
Blue Bloods: Season 1-11 (Paramount+)
The Boys in Red Hats (DVD/Digital)
Death in Paradise: Season 11 (BritBox)
Dinosaur World (Digital/DVD/Blu-Ray)
Dora and the Lost City of Gold (Paramount+)
Hold Your Breath: The Ice Dive (Netflix)
In a New York Minute (Digital)
Paranormal Activity (Paramount+)
Paranormal Activity 2 (Paramount+)
Paranormal Activity 3 (Paramount+)
Paranormal Activity 4 (Paramount+)
Paranormal Activity: The Ghost Dimension (Paramount+)
Paranormal Activity: The Marked Ones (Paramount+)
The Rose Maker (Digital)
Turning Red (DVD/Blu-ray)
Without Remorse (DVD/Blu-ray)
May 4
40 Years Young (Netflix)
Better Things: Season 5 (Disney+)
Casual: Season 1-2 (CBC Gem)
The Circle: Season 4 (new episodes weekly) (Netflix)
Cupid: Season 1 (Disney+)
El marginal: Season 5 (Netflix)
Esohe (Prime Video)
Fresh Off the Boat: Season 1-6 (Disney+)
Gallery: The Book of Boba Fett (Disney+)
How I Met Your Father: Season 1, New Episode (Disney+)
Meltdown: Three Mile Island (Netflix)
Moon Knight: Season 1, Finale (Disney+)
October Road: Season 1-2 (Disney+)
Promised Land: Season1, New Episode (Disney+)
Summertime: Season 3 (Netflix)
Writing with Fire (CBC Gem)
May 5
Blood Sisters (Netflix)
Clark (Netflix)
The Pentaverate (Netflix)
Wild Babies (Netflix)
May 6
Along for the Ride (Netflix)
Bosch: Legacy (Prime Video)
CBX: Canadian Ballroom Extravaganza (CBC Gem)
From the Vine (CBC Gem)
The Big Conn (Apple TV+)
Escape the Field (VOD, Digital)
The Joy Luck Club (Disney+)
Marmaduke (Netflix)
My Big Family Farm (CBC Gem)
Nitram (VOD/Digital)
The Object of My Affection (Disney+)
The Queen Unseen (CBC Gem)
The Sound of Magic (Netflix)
The Takedown (Netflix)
Tehran: Season 2 (Apple TV+)
Thar (Netflix)
The Unsolved Murder of Beverly Lynn Smith (Prime Video)
Welcome to Eden (Netflix)
What A Man (Disney+)
When In Rome (Disney+)
Where the Heart Is (Disney+)
The Wilds: Season 2 (Prime Video)
May 8
Bob's Burgers: Season 12, New Episode (Disney+)
Christina P: Mom Genes (Netflix)
The Great North: Season 2, New Episode (Disney+)
The Simpsons: Season 33, New Episode (Disney+)
Ted Bundy: American Psycho (Netflix)