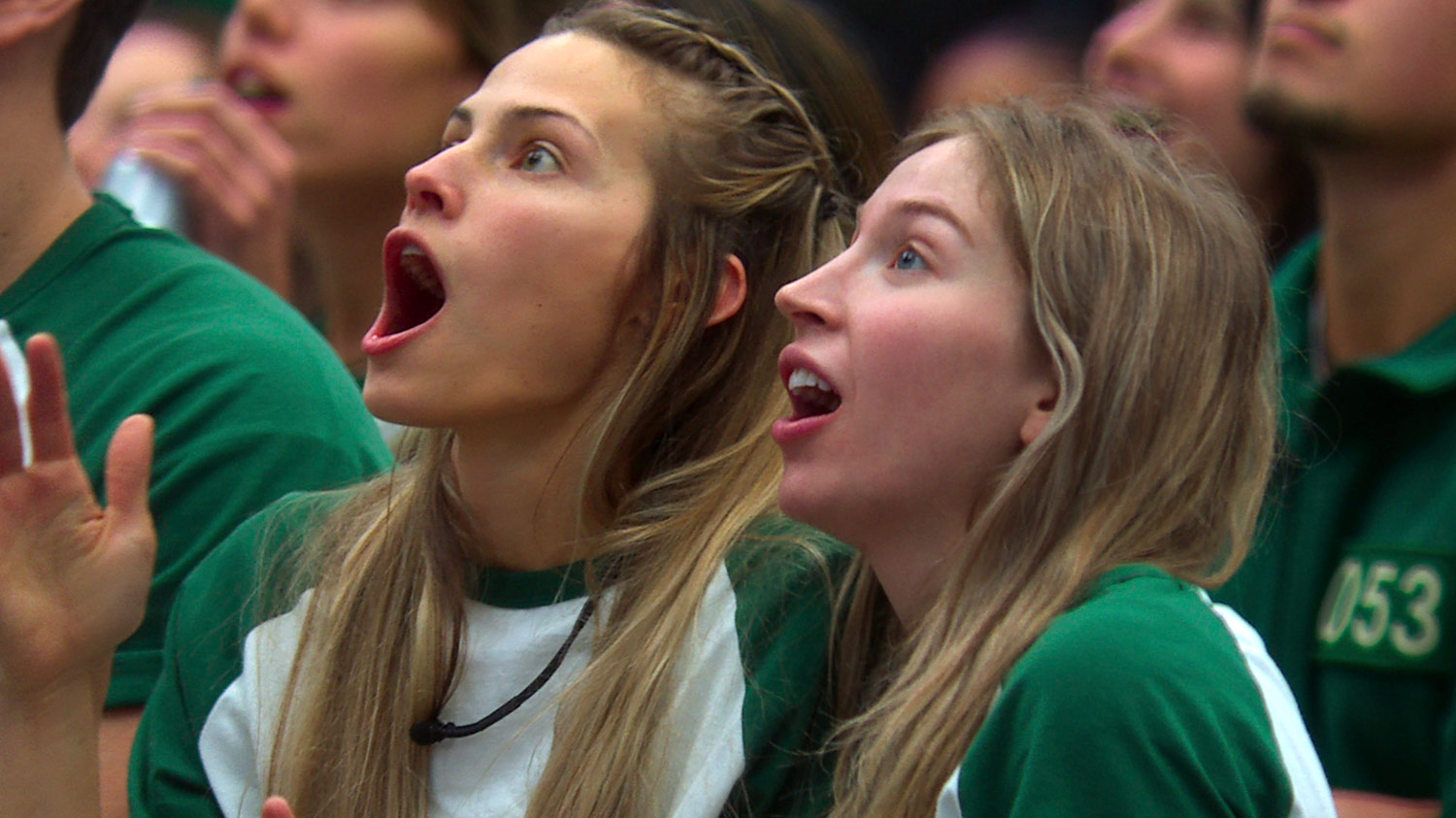 Find out what's new to watch this week on Netflix, Prime Video, Disney+, Paramount+, Apple TV+, Crave, BritBox, CBC Gem and more, including Squid Game: The Challenge, plus DVD and Blu-ray releases such as Oppenheimer and My Big Fat Greek Wedding 3. View the full list of new titles below and watch the trailers. ~Alexandra Heilbron
Squid Game: The Challenge – 456 real players enter the competition show in pursuit of a life-changing reward of USD $4.56 million. As they compete through a series of games inspired by the original show — plus surprising new additions — their strategies, alliances, and character will be put to the test while competitors are eliminated around them. Episodes 1-5 premiere on Netflix November 22, followed by episodes 6 - 9 on November 29, and episode 10 on December 6.
EXmas - When Graham (Robbie Amell) decides to surprise his family by traveling home for Christmas, he is shocked to discover them already celebrating with an unexpected guest of honor, his ex-fiancée, Ali (Leighton Meester). The two exes battle it out to see who the family will pick to stay through Christmas Day and who must go. Now playing on Prime Video.
Robbie Amell talks about his new Christmas movie EXmas on Prime Video. He also describes how he played two Nathans in the third season of his Prime Video hit series Upload, and how he made them slightly different. Find out which stunt he did himself!
My Big Fat Wedding 3 - Toula (Nia Vardalos) and the rest of the Portokalos family travel to Greece for a family reunion in Greece during a heartwarming and hilarious trip full of love, twists and turns. Available November 20 on DVD/Blu-ray.
Oppenheimer - Following the story of American scientist and theoretical physicist J. Robert Oppenheimer (Cillian Murphy) and his role in the development of the atomic bomb in 1941. Available November 20 on DVD/Blu-ray.
November 20
Murdoch Mysteries: Season 17, Episode 8 (CBC Gem)
Run The World: Season 2 (Digital)
Shahs of Sunset: Seasons 1-2 (Netflix)
November 21
5000 Space Aliens (Digital)
The ABCs of Book Banning (Paramount+)
A Song Film by Kishi Bashi - "OMOIYARI" (Paramount+)
Alive in Bronze (Paramount+)
American Dad: Season 19, New Episode (Disney+)
American Underdog: The Kurt Warner Story (Netflix)
Birthing a Nation: The Resistance of Mary Gaffney (Paramount+)
Blue's Clues & You, New Episodes (Paramount+)
Bottoms (Prime Video)
The Choice is Yours (Paramount+)
Dancing with the Stars: Season 32, New Episode at 5pm PT / 8pm ET (Disney+)
Do Not Disturb (VOD)
The Fugitive (4K Ultra HD/Digital)
FX's A Murder at the End of the World, New Episode (Disney+)
The Hills: New Beginnings: Seasons 1-2 (Paramount+)
The Hills: Seasons 1-6 (Paramount+)
Last Songs from Kabus (Paramount+)
Leo (Netflix)
Liberty (VOD)
My Big Fat Wedding 3 (DVD/Blu-ray)
My Home Hero: Season 1, New Episode (Disney+)
NCIS: Sydney, New Episodes Weekly (Paramount+)
Oppenheimer (DVD/Blu-ray)
OSS 117 (Blu-ray Box Set)
Pig Killer (VOD/Blu-ray)
Relative (Digital/VOD)
Saw X (DVD/Blu-ray)
The Scarlet Letter (1934) (DVD/Blu-ray)
Suburbicon (Paramount+)
Tattoo on My Brain (Paramount+)
The Terminal (Paramount+)
Tokyo Revengers: Season 2, New Episode (Disney+)
The Unknown Country (Digital/DVD/Blu-ray)
Urkel Saves Santa: The Movie! (Digital)
What a Girl Wants (Netflix)
November 22
Black Cake, New Episode (Disney+)
Comedy Island Japan (Prime Video)
Crime Diaries: The Celebrity Stylist (Netflix)
Felipe Avello Stand Up 2 (Prime Video)
Genie (Prime Video)
Good Burger (Paramount+)
Good Burger 2 (Paramount+)
The Great Christmas Light Fight: Season 10 (Disney+)
Hannah Waddingham: Home for Christmas (Apple TV+)
High on the Hog: How African American Cuisine Transformed America: Season 2 (Netflix)
The Incredible Dr. Pol: Season 23 (Disney+)
Last Summer of Nathan Lee (Digital)
PJ Masks: Season 5 (Disney+)
The Santa Clauses: Season 2, New Episode (Disney+)
Squid Game: The Challenge (Netflix)
Swan Song (CBC Gem)
The Velveteen Rabbit (Apple TV+)
Vigilante: Season 1, New Episodes (Disney+)
November 23
Hope Street 3A (BritBox)
My Daemon (Netflix)
My Little Pony: Make Your Mark: Chapter 6 (Netflix)
The Naughty Nine (Disney+)
One Trillion Dollars: Season 1, New Episodes Weekly (Paramount+)
Self-Modulation (Prime Video)
Sheroes (Paramount+)
South to Black Power @10pm ET (Crave)
November 24
A Nearly Normal Family (Netflix)
Barry Lyndon — Starz (Crave)
Cross Country Cake Off: Season 1 (Crave)
Cross Country Christmas (Paramount+)
Doi Boy (Netflix)
Easy Land — Starz (Crave)
Elf Me (Prime Video)
Fool's Paradise (Crave)
Harlots: Season 3 (CBC Gem)
Hypnotic (Prime Video)
I Don't Expect Anyone to Believe Me (Netflix)
In Your Dreams (Prime Video)
Jack Frost (1998) — Starz (Crave)
Last Call for Istanbul (Netflix)
Lessons in Chemistry: Season Finale (Apple TV+)
The Levys of Monticello (VOD/Digital)
LOL: Last One Laughing Brazil: Season 3 (Prime Video)
Love Again (Crave)
Mary Makes It Easy: Good Baking Wenceslas (Crave)
My Demon (Netflix)
No Hard Feelings (Crave)
The Price We Pay (Crave)
Rebelle — Starz (Crave)
Resident Evil: Welcome to Raccoon City (Netflix)
Spawn — Starz (Crave)
Step Dogs (Crave)
The Village (Prime Video)
Wedding Games (Netflix)
The White Fortress (CBC Gem)
November 25
Fred Claus — Starz (Crave)
Freak Brothers: Season 2A, Episode 1-4 (Crave)
Power Players: Season 1 (Crave)
November 26
Bob's Burgers: Season 14, New Episode (Disney+)
Faraway Downs: All Six Chapters (Disney+)
Heartland: Season 16, Episode 10 (CBC Gem)
The Simpsons: Season 35, New Episode (Disney+)