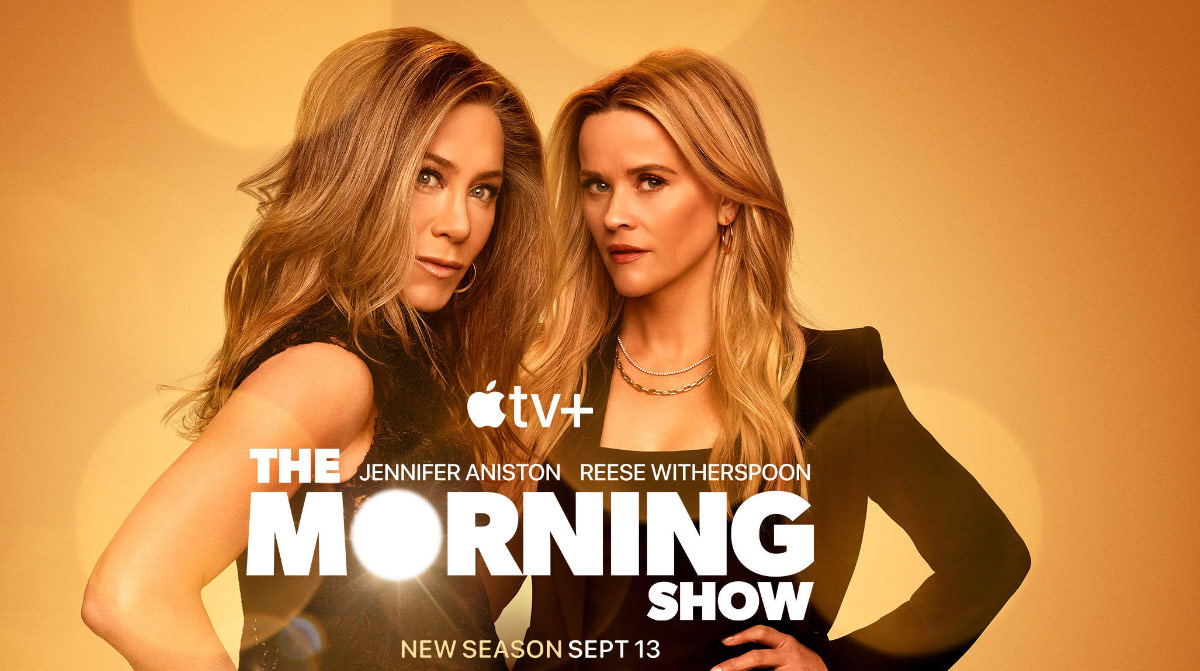 Find out what's new to watch this week on Netflix, Prime Video, Disney+, Crave, Paramount+, BritBox, Apple TV+ and MUBI, including the third season of The Morning Show on Apple TV+, as well as DVD and Blu-ray releases such as AIR, starring Matt Damon and Ben Affleck. View the full list of new titles below and watch the trailers. ~Alexandra Heilbron
The Morning Show: Season 3 – The Morning Show team emerges from the wreckage of Alex (Jennifer Aniston) and Bradley's (Reese Witherspoon) actions, only to discover UBA is the target of a cyber attack, one in which personal secrets may be revealed. Debuts September 13 on Apple TV+.
Love at First Sight – Hadley Sullivan (Haley Lu Richardson) connects with a stranger (Ben Hardy) on a flight to London, only to be separated by a twist of fate. A reunion seems improbable — but love has a way of defying the odds. Debuts September 15 on Netflix.
AIR – While scouting the latest NBA draftees, Nike marketing exec Sonny Vaccaro (Matt Damon) decides to have star college basketball player Michael Jordan front a new shoe for them. However, he first has to get Jordan's ambitious mother Deloris (Viola Davis) on board. Available September 12 on DVD/Blu-ray.
September 11
Alone UK: Season 1 (Paramount+)
September 12
A Sunday Horse (Digital/VOD/DVD)
Ahead of Time: The Extraordinary Journey of Ruth Gruber (2009) (VOD/Digital)
AIR (DVD/Blu-ray)
Along Came a Spider (Paramount+)
Ariel: Back to Buenos Aires (VOD)
The Bad Visitor (VOD)
Cobweb (DVD/Blu-ray)
Final Summer (Digital)
Glow Up: Season 5 (Netflix)
Joyride (DVD/Blu-ray)
Jules (VOD/Digital)
Key & Peele: Season 1-5 (Paramount+)
L'Immensità (DVD/Blu-ray)
Making Time (VOD/Digital)
Michelle Wolf: It's Great to Be Here (Netflix)
The Miracle Club (VOD/Digital)
Poker Face: Season One (DVD/Blu-ray)
This Farming Life: Season 5 (BritBox)
Rules of Engagement: Season 1-7 (Paramount+)
Santiago of The Seas (Paramount+)
Shadow Island (VOD/Digital)
South Park: The Complete Twenty-Sixth Season (Blu-ray/DVD)
Succession: The Complete Series (DVD)
Thomas & Friends: All Engines Go! Brand New Track (DVD)
The Wolf of Wall Street (Netflix)
September 13
Class Act (Netflix)
Donyale Luna: Supermoel @9 p.m. (Crave)
Freestyle (Netflix)
The Kidnapping Day (Prime Video Exclusive Content)
The Morning Show: Season 3 (Apple TV+)
Wrestlers (Netflix)
September 14
Barbie – A Touch of Magic: Season 1 (Netflix)
Buddy Games: Spring Awakening (Paramount+)
Ehrengard: The Art of Seduction (Netflix)
The Gold: Season 1 (Paramount+)
Mrs. Biggs: Season 1 (BritBox)
Once Upon a Crime (Netflix)
Theater Camp (Digital)
Thursday's Widows (Netflix)
September 15
A Million Miles Away (Prime Video Amazon Original)
About Time (Netflix)
The Aviator (Crave)
Black Conflux (CBC Gem)
Blair Witch and Blair Witch Project Double Feature (Blu-ray + Digital)
Brother (Crave)
Carol (Crave)
The Club: Part 2 (Netflix)
Crystal Fairy & The Magical Cactus (2013) (MUBI)
El Conde (Netflix)
The End of Sex (Paramount+)
Fool's Paradise — Starz (Crave)
HouseBroken: Season 2 (Paramount+)
Inside the World's Toughest Prisons: Season 7 (Netflix)
Killer Coaster (Prime Video Amazon Original)
Laurence Anyways — Starz (Crave)
Leprechaun: 1-8 (Blu-ray + Digital)
Life Kills Me (2007) (MUBI)
Love at First Sight (Netflix)
Love In A Showroom (Prime Video)
The Maid (2009) (MUBI)
Marcelo, Marmelo, Martelo: Season 1 (Paramount+)
Match Nas Estrelas: Season 1 (Prime Video Amazon Original)
Matthias & Maxime — Starz (Crave)
Miseducation (Netflix)
The Mum Who Got Tourette's (CBC Gem)
Nasty Baby (2015) (MUBI)
One Fine Morning (Crave)
Pitch Perfect — Starz (Crave)
Pitch Perfect 2 — Starz (Crave)
Revival69: The Concert That Rocked The World (Crave)
Rick and Morty: The Complete Seasons 1-6 (DVD/Blu-ray)
Rob Zombie's Halloween 1 & 2 Double Feature (Blu-ray + Digital)
Rob Zombie Triple Feature (Blu-ray + Digital)
Rotting In The Sun (2023) (MUBI)
Saw: 1-8 Steelbook (Blu-ray + Digital)
Surviving Summer: Season 2 (Netflix)
Tár (Crave)
Tyrel (2018) (MUBI)
Wilderness (Prime Video Amazon Original)
September 17
Telling Our Story (CBC Gem)