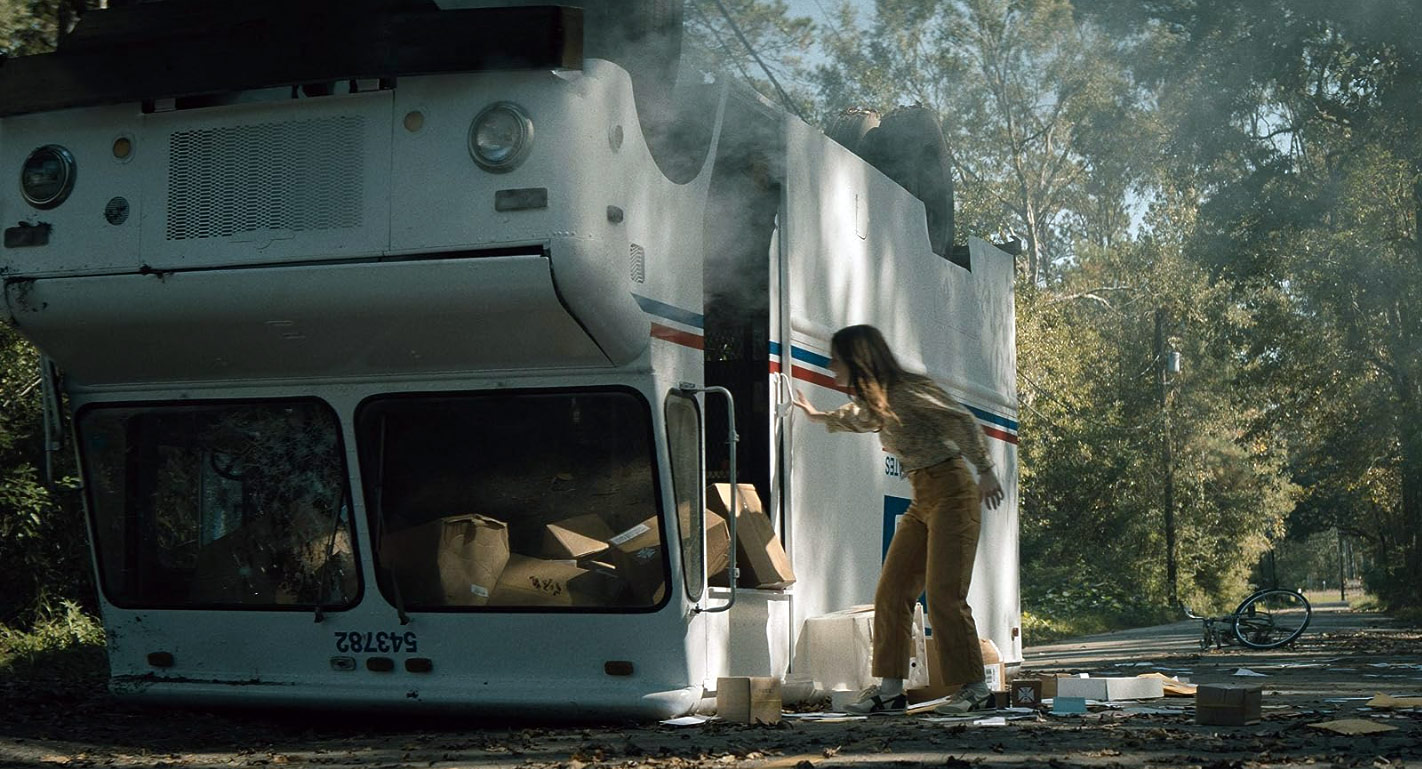 Find out what's new to watch this week on Netflix, Prime Video, Disney+, Crave, Paramount+, BritBox, and Apple TV+, including the sci-fi thriller No One Will Save You, as well as DVD and Blu-ray releases such as Disney's The Little Mermaid. View the full list of new titles below and watch the trailers. ~Alexandra Heilbron
No One Will Save You - Brynn Adams (Kaitlyn Dever), a creative and talented young woman, has been alienated from her community. Lonely but ever hopeful, Brynn finds solace within the walls of the home where she grew up — until she's awakened one night by strange noises. What follows is an action-packed face-off between Brynn and a host of extraterrestrial beings who threaten her future while forcing her to deal with her past. Debuts September 22 on Disney+.
Bones of Crows: The Series - Bones of Crows is a psychological drama told through the eyes of Cree Matriarch Aline Spears, as she survives Canada's residential school system to continue her family's generational fight in the face of systemic starvation, racism, and sexual abuse. Debuts September 20 on CBC, CBC Gem and APTN.
Avoidance - Jonathan (Romesh Ranganathan) is struggling to get back on his feet after his longtime partner Claire decides she can't live with him anymore, due to his avoidance of conflict of any type. For the sake of his young son, Spencer (Kieran Logendra), Jonathan moves in with his sister (Mandeep Dhillon) and her wife (Lisa McGrillis) and tries to pull himself together, which is hard when you lack all the necessary tools to do so. Debuts September 20 on BritBox.
The Little Mermaid - Ariel (Halle Bailey) is the youngest daughter of King Triton (Javier Bardem), the ruler of the underwater kingdom Atlantica. Fascinated by the world of humans, Ariel falls deeply in love with the handsome Prince Eric (Jonah Hauer-King) after saving him during a shipwreck. Available September 19 on DVD and Blu-ray.
September 18
The Commander: Season 1-5 (BritBox)
Dirty Dancing (Prime Video)
Futurama: Season 11, Episode 9 (Disney+)
My Little Pony: Make Your Mark: Chapter 5 (Netflix)
Neighbours (Prime Video Amazon Original)
Solar Opposites: Season 4, New Episode (Disney+)
Synduality Noir: Season 1, New Episode (Disney+)
September 19
10 Cloverfield Lane (Paramount+)
American Dad: Season 19, New Episode (Disney+)
Barber (VOD/Digital)
Biosphere (DVD)
Catfish (Paramount+)
Cloverfield (Paramount+)
The Collective (DVD)
Dreamin' Wild (VOD/Digital)
The Exorcist (4K Ultra HD Disc & Digital)
Fall (4K Ultra HD SteelBook + Blu-ray + Digital)
Fire Country: Season One (DVD)
God's Country Song (DVD/Digital)
Jersey Shore: Seasons 1-6 (Paramount+)
Jersey Shore: Family Vacation, Seasons 1-5 (Paramount+)
Kountry Wayne: A Woman's Prayer (Netflix)
Kroll Show: Seasons 1-3 (Paramount+)
The Little Mermaid (DVD/Blu-ray)
The Loud House: The Really Loud House (Paramount+)
Only Murders In The Building: Season 3, Episode 8 (Disney+)
Past Lives (DVD/Blu-ray)
Prisoner's Daughter (DVD/Blu-ray)
The Saint of Second Chances (Netflix)
Sanctuary (Prime Video)
Slotherhouse (DVD/Blu-ray)
Sonic The Hedgehog: The Complete Series (DVD)
Stars on Mars: Season 1 (Paramount+)
Star Wars: Ahsoka, Episode 6 (Disney+)
Teenage Mutant Ninja Turtles: Season 1-2 (Paramount+)
What's Love Got to Do with It? (DVD/Blu-ray)
September 20
American Hustle (Netflix)
Avoidance (BritBox)
The D'Amelio Show: Season 3, New Episodes (Disney+)
Han River Police: Season 1 – 2 New Episodes (Disney+)
Hard Broken (Netflix)
Irresistible: Season 1 (Disney+)
Marvel Studios' Assembled: The Making of Secret Invasion (Disney+)
Miraculous: Tales of Ladybug & Cat Noir: Season 5 (Disney+)
The Morning Show, New Episode (Apple TV+)
Moving, New Episodes (Disney+)
Reservation Dogs: Season 3, Episode 5 (Disney+)
The Super Models (Apple TV+)
This Fool: Season 2, New Episode (Disney+)
September 21
American Pie (Netflix)
American Pie 2 (Netflix)
American Wedding (Netflix)
Kengan Ashura: Season 2 (Netflix)
Scissor Seven: Season 4 (Netflix)
Sex Education: Season 4 (Netflix)
Snowpiercer (Netflix)
September 22
The Amazing Race Canada: Season 9 (Crave)
Big George Foreman: The Miraculous Story of the Once and Future Heavyweight Champion of the World (Crave)
The Black Book (Netflix)
Cassandro (Prime Video Amazon Original)
Condition of Return (VOD)
The Continental: From the World of John Wick (Prime Video Amazon Original)
Dark Asset (Digital/VOD)
Deadlocked: How America Shaped The Supreme Court (Paramount+)
Everybody Dies By the End (Digital)
Gray: Season 1 (Paramount+)
Guild Garage: Season 7 (Crave)
How To Deal With a Heartbreak (Netflix)
Les routes en février / Roads in February (CBC Gem)
Likes For Sale (Disney+)
Love Is Blind: Season 5 (Netflix)
Mindcage (Crave)
Neither Confirm Nor Deny (VOD)
Nelly & Simon: Mission Yeti (Crave)
No One Will Save You (Disney+)
Raththam (Prime Video)
Somewhere in Queens — Starz (Crave)
Spy Kids: Armageddon (Netflix)
Still Up (Apple TV+)
Wild Things — Starz (Crave)
September 23
Arthdal Chronicles: Season 2, New Episode (Disney+)
BLEACH: Thousand-Year Blood War / Bleach Sennen Kessen-Hen: Season 2, New Episode (Disney+)
The Bodyguard (1992) (Crave)
I Have Nothing @9pm (Crave)
September 24
Arthdal Chronicles: Season 2, New Episode (Disney+)