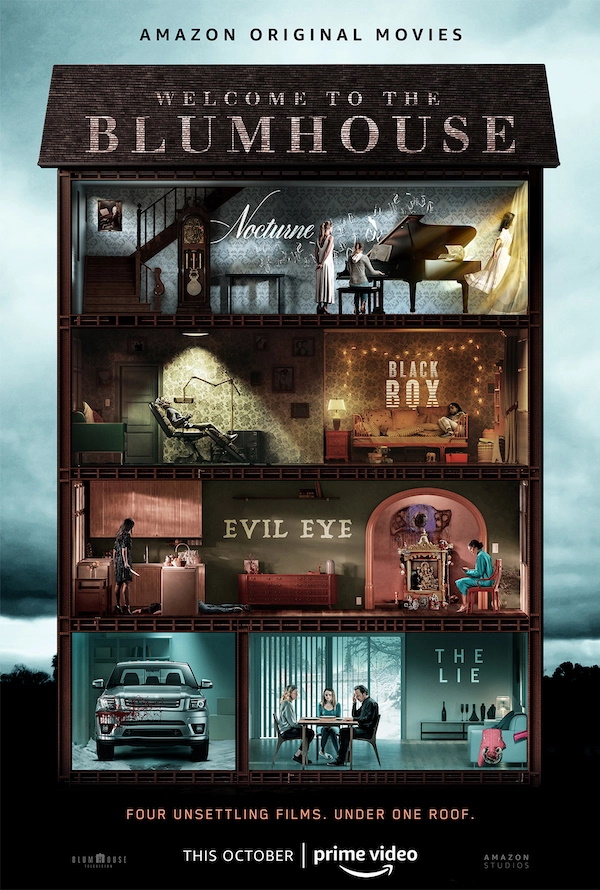 Amazon Prime Video has a selection of new original titles available to stream. In the spirit of the spooky season, there are new horrors and thrillers that will give you the chills, as well as a glam Fenty fashion show.
Originals
The highly anticipated Savage x Fenty Show Vol. 2 premiered October 2. As a follow up to last year's ground-breaking event, this year's Savage X Fenty Show raised the bar. Debuting the bold and fearless Fall 2020 line, Savage X Fenty Show Vol. 2 showcased performances by an all-star lineup, including hip-hop icon Travis Scott, Bad Bunny, Ella Mai, Miguel, Mustard, Roddy Ricch, and Rosalia.
Welcome to the Blumhouse is a new anthology series of unique and unsettling thrillers/horrors showcasing diverse casts led by emerging filmmakers. The first four films in the series will be released this month.
The first is Black Box (Oct. 6), which follows Nolan Wright (Mamoudou Athie), who is struggling to get on with his life after losing his wife and his memory in a tragic car accident. So when a neuropsychiatrist invites him to participate in an experimental treatment that might give him his memories back, he agrees, but he experiences a much darker past than he anticipated. Are you getting the chills already?
The second film in the anthology series is a psychological thriller that looks quite intriguing, titled The Lie (Oct. 6). While 15-year-old Kayla (Joey King) admits she pushed her best friend off a bridge into an icy river, her parents Jay (Peter Sarsgaard) and Rebecca (Mireille Enos) cover up her crime with a series of lies that turn into a complicated web of deception.
The third film, Nocturne, premieres October 16. It follows shy piano student Juliet Lowe (Sydney Sweeney), who has always been overshadowed by her twin sister Vivian (Madison Iseman). When Juliet finds a mysterious notebook that belonged to Moria, a student who recently died, she uses the book to her advantage and her talent immediately improves as she becomes the academy's top student. However, something sinister soon tries to take control of her.
The final film premiering on October 16 is Evil Eye. At home in India, Usha Khatri is overjoyed when her daughter Pallavi calls from New Orleans telling her that she has met someone. But as Usha learns more about Pallavi's wealthy boyfriend Sandeep, she becomes convinced something is wrong. The mother/daughter duo are forced to confront dark family secrets as a terrifying supernatural force haunts them.
Truth Seekers premieres October 30th, just in time for a spooky Halloween season. The supernatural comedy drama series follows a team of part-time paranormal investigators who team up to uncover and film ghost sightings across the UK, sharing their adventures on an online channel for all to see.
Scroll below to see everything coming to Amazon Prime Video in October, and what's leaving. ~Marriska Fernandes
October 1
Soltos Em Floripa: Season 1
Inglourious Basterds
Pulpfiction
Mad Men S1-S7
October 2
Bug Diaries Halloween Special: Season 1
Savage x Fenty Show Vol. 2
October 6
Black Box (Blumhouse)
The Lie
Mr. Robot: Season 4
October 8
Blumhouse's Fantasy Island
Archive
October 9
Sons of the Soil: Jaipur Pink Panthers: Season 1
Subete A Mi Moto: Season 1
Carolina Marin: Season 1
October 13
Evil Eye
Noctume
October 15
The Rhythm Section
Countdown
October 16
What The Constitution Means To Me: Season 1
Time
Putham Pudhu Kaalai: Season 1S1
October 22
Mirzapur: Season 2
October 29
Like a Boss
October 30
The Challenge: Eta: Season 1
Truth Seekers
Everything leaving Amazon Prime Video in October:
October 12
Monster-In-Law
October 31
Burn After Reading
Escape From Planet Earth
Looper
Scream 1-4
Sin City
The Grey
The King's Speech