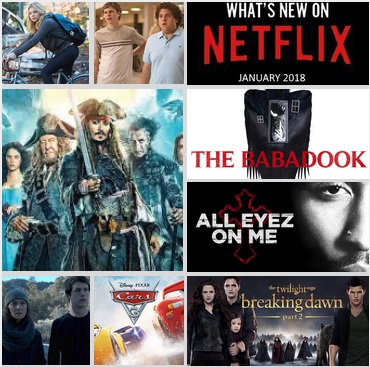 Once the holiday season comes to an end, what better way to relax and unwind than by sitting on the couch with cookies and hot cocoa, while bingeing on your favorite Netflix shows. The new year promises to entertain you with exciting Netflix original films and series, as well as much-loved theatrical hits. Check out what's new below.
Originals
When it comes to Netflix's new content, we know there are always a few surprises. In January, there are a handful of original films and series that cater to every genre. Thrill seekers can enjoy The Open House (Jan. 19), a horror/thriller that follows a teen and his mother as they move into a new house with a dark force. You might recognize Dylan Minnette from the original series 13 Reasons Why.
Jack Black and Jenny Slate star in The Polka King (Jan. 12), a film that follows local Pennsylvania polka legend Jan Lewan, who develops a plan to get rich but winds up in jail.
Must-Watch
Some of our picks to binge on in the new year include the classic Superbad (Jan. 1), which follows two friends' wacky adventures as they try to buy booze for a party to impress the girls. Another comedy to devour is the Johnny Depp-starrer Mortdecai (Jan. 17). It tells the story of debonair art dealer Charlie Mortdecai as he travels the globe, searching for a stolen painting said to contain the code to a lost bank account filled with Nazi gold.
For the fashion-obsessed folks, we recommend Manolo: The Boy Who Made Shoes for Lizards (Jan. 15), an in-depth portrait of Manolo Blahnik, the man regarded by most influential fashion figures as "the best shoe-maker of the 20th and 21st centuries."
Thrills and Chills
If you're feeling like a spooky night in, a highly recommended film is The Babadook (Jan. 1), which follows a widowed mother who has to face her son's fear of a monster lurking in the house. But can this sinister presence be real?
Another one to watch is Murder on the Cape (Jan. 1), based on the Christa Worthington case. When a fashion writer is murdered, the immediate suspect is the fisherman with whom she was having an affair, who is also the father of her child.
For more thrills, 47 Meters Down (Jan 19) is a film that tells the story of two sisters who go cage diving in Mexico, but what starts out as the experience of a lifetime soon becomes a nightmare for the sisters as their cage detaches from their boat and sinks 47 meters to the ocean floor, which is teeming with Great White Sharks.

Drama
Pirates of the Caribbean: Dead Men Tell No Tales (Jan. 2) is an adventure film to not miss out on. A down-on-his-luck Captain Jack Sparrow (Johnny Depp) finds his life on the line when deadly ghost pirates led by his old nemesis, the terrifying Captain Salazar (Javier Bardem), escape from the Devil's Triangle, determined to kill every pirate at sea -- including Captain Jack.
All Eyez on Me (Jan 5) is a biographical drama that chronicles the life of late rapper Tupac Shakur, whose politically charged lyrics are still an inspiration for major artists today.
Of course, Edward Cullen is on this list. Don't judge. The final installment in the series is now available: The Twilight Saga: Breaking Dawn: Part 2 (Jan 5). If that isn't up your alley, maybe watch Chloe Grace Moretz go on the run after four waves of deadly attacks by extraterrestrials in The Fifth Wave (Jan. 17).
Wishing you all a very happy and prosperous 2018! ~Marriska Fernandes
Here's the complete list of series and films streaming on Netflix in the new year as well as the list of films/series leaving Netflix.
January 1:
13 Minutes
Age of Shadows
AlphaGo
Anne With An E - Season 1
Camp Cool Kids
Chonda Pierce: Enough
Dries
Eastsiders - Season 3
Functional Fitness
Glacé - Season 1 - Netflix Original
Lovesick - Season 3 - Netflix Original
Maddman: The Steve Madden Story
Martin Luther: The Idea that Changed the World
Murder on the Cape
Not Alone
Open Season: Scared Silly
Penn & Teller: Fool Us - Season 1
Planetarium
Splash and Bubbles - Season 1
Super Dark Times
Superbad
The Babadook
The Layover
The Rehearsal
The Vault
Treasures From The Wreck Of The Unbelievable
Unleashed
January 2:
Cheapest Weddings - Season 1
Disney's Pirates of the Caribbean: Dead Men Tell No Tales
Mustang Island
Rent
Shameless (U.S.) - Season 7
Zumbo's Just Desserts - Season 1
January 3:
6 Days
A Ghost Story

January 5:
All Eyez on Me
Comedians in Cars Getting Coffee Collections - Netflix Original
DEVILMAN crybaby - Season 1 - Netflix Original
Dirk Gently's Holistic Detective Agency - Season 2 - Netflix Original
Don Quixote: The Ingenious Gentleman of La Mancha
Rotten - Netflix Original
The Twilight Saga: Breaking Dawn: Part 2
January 6:
House of Z
Killing Ground
The Journey

January 10:
Alejandro Riaño Especial de stand up - Netflix Original
January 12:
Boyka: Undisputed
Disjointed - Part 2- Netflix Original
Somebody Feed Phil - Netflix Original
The Man Who Would Be Polka King
The Polka King - Netflix Film
January 14:
Carol
Tom Segura: Disgraceful - Netflix Original
January 15:
Manolo: The Boy Who Made Shoes for Lizards
Rip Tide
Unrest

January 16:
Helix - Seasons 1-2
Katt Williams: Great America - Netflix Original
January 17:
Arango y Sanint: Ríase El Show - Netflix Original
January 18:
Bad Day for the Cut
Dear White People
Dynasty - Season 1 - Netflix Original - New Episodes Weekly
Kill the Messenger
Mr. Holmes
Mortdecai
Riverdale - Season 1 - Netflix Original - New Episodes Weekly
Spotlight
The 5th Wave
Tiempos de guerra - Temporada 1 - Netflix Original
January 19:
Drug Lords - Season 1 - Netflix Original
Grace and Frankie - Season 4 - Netflix Original
In The Deep
The Open House - Netflix Film
Trolls: The Beat Goes On! - Season 1 - Netflix Original
Van Helsing - Season 2 - Netflix Original
January 23:
Black Lightning - Season 1 - Netflix Original - New Episodes Weekly
Todd Glass: Act Happy - Netflix Original
January 24:
Ricardo Quevedo: Hay gente así - Netflix Original
The Good Catholic
January 25:
Acts of Vengeance
Suits - Season 6 - New Episodes
January 26:
A Futile and Stupid Gesture - Netflix Original
Dirty Money - Netflix Original
Kavin Jay: Everybody Calm Down! - Netflix Original
Llama Llama - Season 1 - Netflix Original
One Day at a Time - Season 2 - Netflix Original
Sebastián Marcelo Wainraich - Netflix Original
The Adventures of Puss in Boots - Season 6 - Netflix Original
Mau Nieto: Viviendo sobrio... desde el bar - Netflix Original
January 28:
El Ministerio del Tiempo - Season 3 - Netflix Original
January 29:
Mandela: Long Walk to Freedom
Patient Seventeen
The Force
January 30:
Babylon Berlin - Seasons 1-2 - Netflix Original
Retribution - Season 1 - Netflix Original
January 31:
Disney·Pixar Cars 3
Last Call
January 1:
The Patriot
24 - Seasons 1-8
Bridesmaids
Law & Order: Special Victims Unit - Seasons 14-17
January 5:
Cocaine Cowboys
January 14:
Star Wars: The Force Awakens
January 15:
101 Dalmatians
January 31:
Les Misérables
Think Like a Man