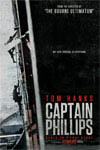 User Rating:
Captain Phillips (PG)
Cast:
Tom Hanks, Barkhad Abdi, Barkhad Abdirahman, Faysal Ahmed, Mahat M. Ali, Michael Chernus, Corey Johnson, Max Martini, Chris Mulkey, Yul Vazquez, David Warshofsky, Catherine Keener
Synopsis:
CAPTAIN PHILLIPS is an examination of the 2009 hijacking of the U.S. container ship Maersk Alabama by a crew of Somali pirates. The film focuses on the relationship between the Alabama's commanding officer, Captain Richard Phillips (Tom Hanks), and his Somali counterpart, Muse (Barkhad Abdi). Set on an incontrovertible collision course off the coast of Somalia, both men will find themselves paying the human toll for economic forces outside of their control.
Captain Phillips Movie Times:
101-22 Sir Winston Churchill Ave., St. Albert, (780) 458-9822
Thu
6:45 9:15
4211 139th Avenue, Edmonton, (780) 473-8383
Thu
6:40