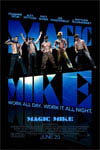 User Rating:
Magic Mike
Cast:
Channing Tatum, Alex Pettyfer, Matthew McConaughey, Cody Horn, Olivia Munn, Matt Bomer, Riley Keough, Joe Manganiello, Kevin Nash, Adam Rodriguez, Gabriel Iglesias
Synopsis:
Adam (Alex Pettyfer) is in a rut. He just moved in with his sister in a new town and takes on a construction job to make end meet. Everything seems hopeless—until he meets Mike (Channing Tatum). Mike works construction by day but by night he's something much more exciting—a stripper.
Set in the seedy world of male strippers, the film follows the veteran performer Magic Mike as he takes the young Adam under his wing, nicknames him The Kid, and schools him the art of stripping, partying and picking up women all while working for their eccentric boss, former exotic dancer Dallas (Matthew McConaughey) at the Xquisite nightclub.
The two, along with their stripper friends, have a good run; however, things turn complicated when Mike falls for The Kid's sister. Now, Mike must figure out what he wants—the stripping and fun or the girl of his dreams and a different career.
Magic Mike Movie Times:
(No Spring screenings)