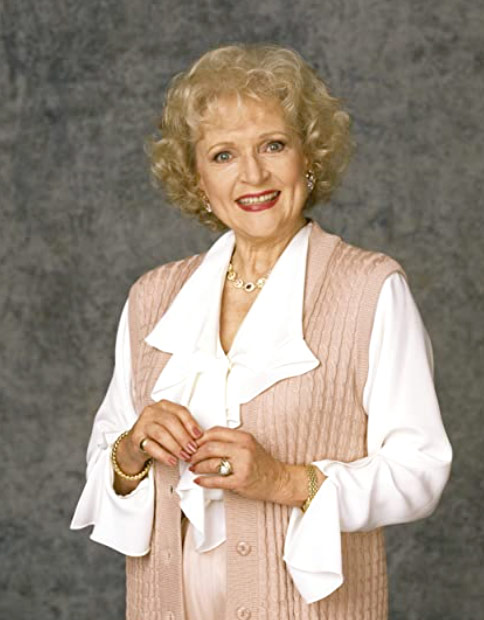 Betty White, 99, passed away today at her home of natural causes, just weeks before what would have been her 100th birthday.
Her career in television lasted 80 years, with her most memorable performances including her roles as Rose Nylund on Golden Girls and Sue Ann Nivens on The Mary Tyler Moore Show.
Although she was born January 17, 1922 in Oak Park, Illinois, Betty's family moved to California when she was still a baby. Shortly after graduating high school in 1939, Betty sang on an experimental television show in Los Angeles. However, she put her show business career on hold for a few years when she volunteered for the American Women's Voluntary Services during World War II.
After the war, Betty co-hosted the show Hollywood on Television alongside Al Jarvis. In 1952, Jarvis left the program and Betty became the show's sole host, working six days per week.
In the 1960s, Betty was a recurring guest on game shows, where her charisma and humor made her a popular guest. She met Allen Ludden in 1961 while appearing on the game show Password. They were married in 1963 and stayed happily married until Ludden passed away in 1981 of stomach cancer.
Betty's talent was recognized in 1951 when she earned her first Emmy nomination. In 1975, she won her first Emmy award for her work on The Mary Tyler Moore Show, then won again in 1976. She won another three Emmy awards over the course of her career, for The Golden Girls and guest appearances on The John Larroquette Show and Saturday Night Live.
In 1983, she earned a Daytime Emmy award when she hosted the show Just Men!, becoming the first woman to receive an Emmy as "Outstanding Game Show Host."
Betty also appeared on the big screen from time to time, including starring alongside Steve Martin in the 2003 comedy Bringing Down the House and playing Ryan Reynolds' grandmother in The Proposal (2009), which also starred Sandra Bullock. An animal lover and activist, Betty worked with a number of animal welfare organizations, including the Morris Animal Foundation, Actors & Others for Animals, the Farm Animal Reform Movement, Friends of Animals and the Los Angeles Zoo Commission. She turned down a role in the 1997 film As Good As It Gets because of a scene in which a small dog was thrown down a laundry chute. At the time, she said, "I know it's for laughs but given my feelings about animals and my work for animal welfare, I just didn't find it funny. I didn't think it would be a good example to people who might try it in real life."
At 88, Betty was cast on the sitcom Hot in Cleveland and stayed with the show for six seasons until 2015. That same year, Betty was honored with a Lifetime Achievement Award from the Daytime Emmy Awards and received a People's Choice Award for "Favorite TV Icon." She also has a star on the Hollywood Walk of Fame at Hollywood Boulevard.
"Even though Betty was about to be 100, I thought she would live forever," her agent and close friend Jeff Witjas said in a statement released today. "I will miss her terribly and so will the animal world that she loved so much. I don't think Betty ever feared passing because she always wanted to be with her most beloved husband Allen Ludden. She believed she would be with him again." ~Alexandra Heilbron