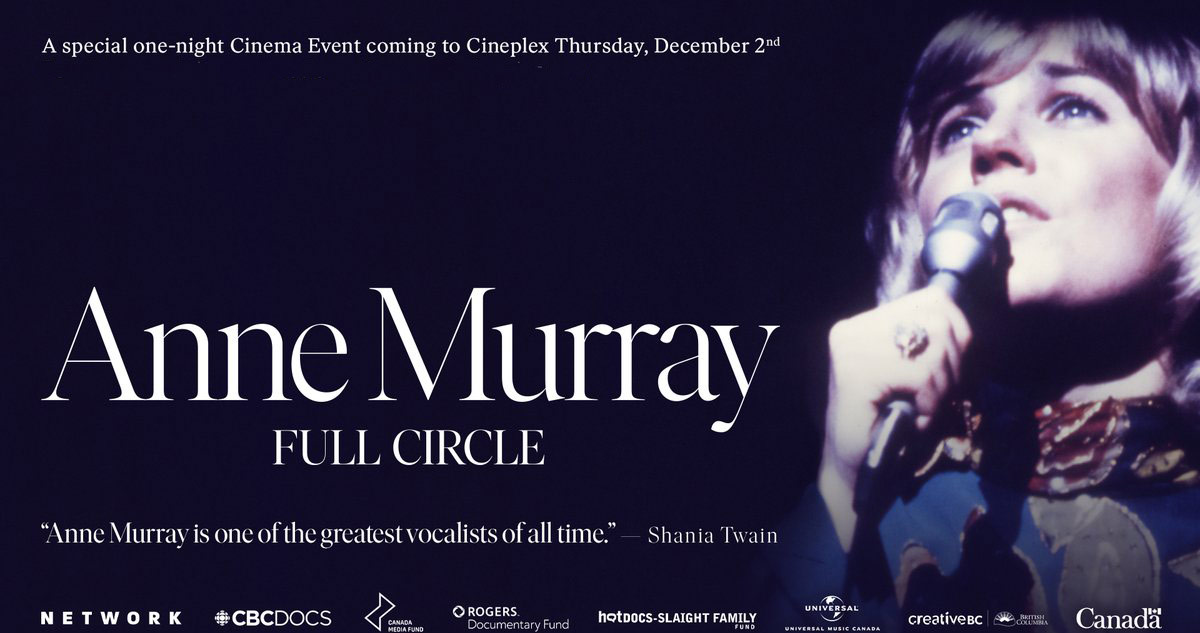 December is kicking off with a slew of new movie releases, and more on the way. There are a number of diverse movies to select from this weekend. The documentary Anne Murray: Full Circle will take viewers on a personal and emotional journey through the 1960s and 1970s of the groundbreaking female Canadian artist who became a global phenomenon. Take a look at the trailers below to see what you should watch this weekend! ~Manal Amir
Anne Murray: Full Circle – An exclusive, in-depth conversation with Canadian legend Anne Murray is just one of the features in this documentary, in which she offers anecdotes, recollections, and thoughts about her illustrious career, which includes 19 hit songs and magnificent recordings. Anne's career has lasted decades as her songs have topped the charts. Originally from Nova Scotia, she achieved worldwide fame, performed and collaborated with music royalty, and her distinctive talent transformed casual listeners to die-hard fans. Playing Thurs Dec. 2 only, in select cities. Click here for showtimes.
Sword Art Online: Progressive - Aria of a Starless Night – One month after Akihiko Kayaba's game of death began, the death toll continues to rise, two thousand players having already lost their lives to the ultra-difficult VR MMO world of Sword Art Online. On the day of the strategy meeting to plan out the first-floor boss battle, Kirito, a solo player who vows to fight alone to get stronger, runs into a rare, high-level female player. She gracefully dispatches powerful monsters with a single rapier that flashes like a shooting star in the night. Playing in select cities. Click here for showtimes.
Christmas with André – The King of Waltz brings a magnificent celebration to Maastricht from the newly built Winter Palace. Marvel at the magnificent palace decorations that reflect stunning winter landscapes, including 150 beautiful chandeliers, over 50 sconces, and large arched windows. Sing and dance to Christmas songs, romantic sashays, and beautiful melodies to get into the spirit of the season. Playing from Dec. 4 in select cities. Click here for showtimes.
India Sweets and Spices – A year after leaving college, Arya Kapoor (Sofia Ali) returns to her high-end residence in the suburbs of New Jersey and uses her new freedom to subvert their orderly lives. As she discovers the truth about both of her parents, it pushes her to confront them in a perilous and transforming confrontation. Playing in select cities. Click here for showtimes.
Wolf – Believing he is a wolf trapped in a human body, Jacob (George MacKay) eats, sleeps, and lives like a wolf – much to the shock of his family. When he's sent to a clinic, Jacob and his animal-bound peers are forced to undergo increasingly extreme forms of "curative" therapies. However, once he meets the mysterious Wildcat (Lily-Rose Depp), and as their friendship blossoms into an undeniable infatuation, Jacob is faced with a challenge: will he renounce his true self for love. Jacob tries to escape the clinic and the cruel therapeutic tactics they put him through. Click here for showtimes.
The Hand of God – In 1980s Naples, young Fabietto (Filippo Scotti) comes from a large extended and somewhat crazy family. He loves football, but is fascinated when he watches a film being shots on the streets of his city. When family tragedy strikes, he becomes determined to be a filmmaker. Playing in select cities. Click here for showtimes.