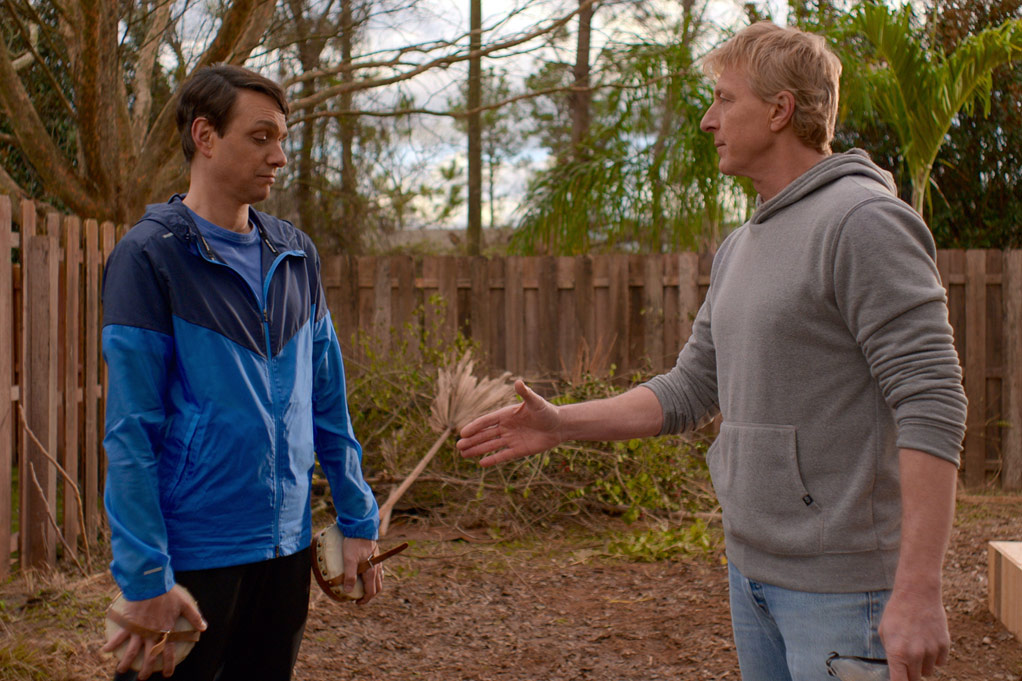 Find out what's streaming this week on Netflix, Amazon Prime Video, Disney+, BritBox and more, as well as what's new on DVD and Blu-ray, including Season 4 of Cobra Kai and The Lost Daughter starring Olivia Colman. Check out the full list below and watch the trailers! ~Alexandra Heilbron
Cobra Kai: Season 4 - The Miyagi-Do and Eagle Fang dojos join forces to take down Cobra Kai at the All Valley Under 18 Karate Tournament... and whoever loses must hang up their gi. As Daniel LaRusso's  (Ralph Macchio) daughter and Johnny Lawrence's (William Zabka) protégé try to maintain the dojo alliance and Johnny's son Robby (Tanner Buchanan) goes all in at Cobra Kai, the fate of the Valley has never been more precarious. Debuts December 31 on Netflix.
The Lost Daughter - College professor and divorced mother of two grown daughters, Leda Caruso (Olivia Colman) travels to a small seaside town in Greece for a vacation. While at the beach, Leda takes notice of Nina (Dakota Johnson) and her daughter. When Nina's daughter loses her doll, Leda becomes more involved with the two of them, bringing forth dark memories, forcing Leda to face her unsettling past. Debuts December 31 on Netflix.
The French Dispatch - In the 1960s in the French city of Ennui-sur-Blasé, journalists work on the American magazine The French Dispatch. Curmudgeonly editor Arthur Howitzer Jr. (Bill Murray) runs the magazine, which covers "world politics, the arts high and low, and diverse stories of human interest." Three of those stories concern an artist in prison, student riots and a kidnapping. Available on DVD/Blu-ray December 28.
December 28
Castle Falls (DVD/Blu-ray)
The French Dispatch (DVD/Blu-ray)
Mayday (DVD/Blu-ray)
Red Snow (DVD/Digital/VOD)
Word Party Presents: Math! (Netflix)
December 29
Anxious People (Netflix)
Bob's Burgers: Season 12, New Episode (Disney+)
The Book of Boba Fett (Disney+)
Crime Scene: The Times Square Killer (Netflix)
Family Guy: Season 20, New Episode)
The Great North: Season 2, New Episode (Disney+)
The Simpsons: Season 33, New Episode (Disney+)
December 30
An Exquisite Meal (Digital/VOD)
Kitz (Netflix)
Hilda and the Mountain King (Netflix)
The Originals: Season 5 (Amazon Prime Video)
Viruman (Amazon Prime Video)
December 31
Almost Never: Season 3 (CBC Gem)
Celebrity Hunted (Amazon Prime Video)
Cobra Kai: Season 4 (Netflix)
The Lost Daughter (Netflix)
Orelsan : Montre Jamais Ça À Personne (Amazon Prime Video)
Queenpins (Amazon Prime Video)
Queer Eye: Season 6 (Netflix)
Seal Team (Netflix)
Stay Close (Netflix)
January 1
Chief Daddy 2 (Netflix)
The Hook Up Plan: Season 3 (Netflix)
1BR (Netflix)
3:10 to Yuma (Netflix)
Apocalypse Now Redux (Netflix)
Argo (Netflix)
The Blair Witch Project (Netflix)
Contagion (Netflix)
Countdown (Netflix)
The Ghost Writer (Netflix)
Masha's Tales: Season 1 (Netflix)
My Best Friend's Girl (Netflix)
Norm of the North (Netflix)
Pacific Rim (Netflix)
Saw III (Netflix)
Saw VI (Netflix)
Sherlock Holmes: A Game of Shadows (Netflix)
Vera: Seasons 1, 2 & 6 (BritBox)
Waiting… (Netflix)
Why Did I Get Married? (Netflix)
January 2
American Sniper (Netflix)
The Campaign (Netflix)
Cradle 2 the Grave (Netflix)
Exit Wounds (Netflix)
Gangster Squad (Netflix)
The Great Gatsby (2013) (Netflix)
Pirates of the Caribbean: The Curse of the Black Pearl (4K UHD)
RuPaul's Drag Race: Season 13 (Netflix)
RuPaul's Drag Race: Untucked! (Netflix)