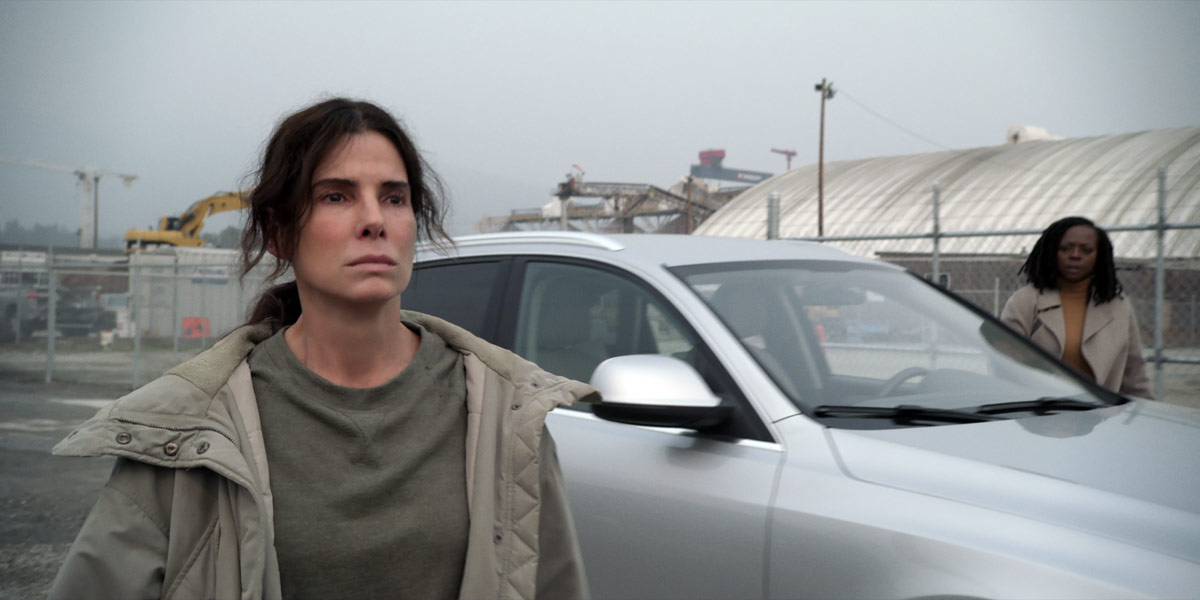 Find out what's streaming this week on Netflix, Amazon Prime Video, Disney+, Apple TV+, CBC Gem and more, as well as what's new on DVD and Blu-ray, including Dear Evan Hansen starring Ben Platt on Blu-ray and The Unforgivable starring Sandra Bullock. See the full list below! ~Alexandra Heilbron
The Unforgivable - After serving 20 years in prison for killing a police officer, Ruth Slater (Sandra Bullock) is released from prison. She wants to find her estranged sister, despite a warning from her parole officer to make no contact. As she tries to live in a society that rejects her, the son of the police officer who was killed wants revenge. Debuts December 10 on Netflix.
Neli Kastrinos describes what it was like to land her first movie role, playing Sandra Bullock's little sister in Netflix's The Unforgivable. The eight-year-old actress reveals what her favorite scene was, because it involved eating plenty of pancakes, waffles and maple syrup!
Dear Evan Hansen - A big screen adaptation of the smash hit Broadway musical about a teenager named Evan Hansen (Ben Platt) who has a severe anxiety disorder that gets in the way of his connecting with other people. Available December 7 on DVD/Blu-ray.
Peter Rabbit 2: The Runaway - After Bea (Rose Byrne) and Thomas (Domhnall Gleeson) are married, Peter hears the couple discussing their future children. When Thomas says the children will be better behaved than the rabbits, Peter feels that maybe the couple would be better off without them, so the rabbits and their friends run away. But when they are caught and imprisoned, Peter is surprised that Thomas goes to great lengths to save them. Debuts December 9 on Amazon Prime Video.
December 6
David and the Elves (Netflix)
Voir (Netflix)
December 7
13 Minutes (DVD/Blu-ray)
Avatar & Legend of Korra Complete Series Collection (Blu-ray)
Beavis and Butthead do America (Blu-ray/Digital)
Broadcast Signal Intrusion (DVD/Blu-ray)
Centaurworld: Season 2 (Netflix)
Copshop (DVD/Blu-ray)
Creepshow: Season 2 (DVD/Blu-ray)
Cry Macho (DVD/Blu-ray)
Dear Evan Hansen (DVD/Blu-ray)
Ema (DVD/Blu-ray)
The Girl Who Believes in Miracles (DVD)
Go Dog Go: Season 2 (Netflix)
God's Not Dead: We the People (DVD/Blu-ray)
Infinite (4K UHD+Digital/Blu-ray+Digital/DVD)
The Handler (DVD/VOD/Digital)
Harold and Maude (Blu-ray)
Harry Chapin: When in Doubt, Do Something (VOD/Digital)
The Jesus Music (DVD/Digital/Blu-ray)
The Karate Kid Collection Limited Edition (4K Ultra HD)
Last Shootout (DVD/Blu-ray)
Margrete: Queen of the North (VOD/Digital)
Nicole Byer: BBW (Big Beautiful Weirdo) (Netflix)
One Night in Miami (DVD/Blu-ray)
Ron's Gone Wrong (DVD/Blu-ray)
The Scrapper (Digital)
This Game's Called Murder (VOD/Digital)
Ultraman Gaia (DVD)
Werewolves Within (DVD/Blu-ray)
The Wishing Tree (VOD)
December 8
Bob's Burgers: Season 12, New Episode (Disney+)
Carolin Kebekus: The Last Christmas Special (Netflix)
Disney Insider: Season 1, New Episode (Disney+)
Dopesick: Season 1, New Episode (Disney+)
Escape to The Chateau: Season 8 (CBC Gem)
Family Guy: Season 20, New Episode (Disney+)
FC Bayern – Behind The Legend (Amazon Prime Video)
The Great Christmas Light Fight: Season 9 (Disney+)
The Great North: Season 2, New Episode (Disney+)
Hawkeye: Season 1, New Episode (Disney+)
Modern Family: Season 1-11 (Disney+)
Taste the Nation with Padma Lakshmi: Season 2, New Episodes (Disney+)
Titans: Season 3 (Netflix)
Welcome to Earth (Disney+)
December 9
Asakusa Kid (Netflix)
Bathtubs Over Broadway (Netflix)
Bonus Family: Season 4 (Netflix)
Day Zero (Amazon Original)
The Family That Sings Together: The Camargos (Netflix)
The Ferragnez (Amazon Original)
The Grudge (Netflix)
Peter Rabbit 2: The Runaway (Amazon Prime Video)
Surprise and Seek (Amazon Prime Video)
December 10
Anonymously Yours (Netflix)
Aranyak (Netflix)
Back to the Outback (Netflix)
Bollywood Hollywood (CBC Gem)
Call The Midwife: Season 7 Christmas Special (CBC Gem)
Call The Midwife: Season 8 Christmas Special (CBC Gem)
The Chef (CBC Gem)
Christmas... Again? (Disney+)
Encounter (Amazon Original)
The Expanse: Season 6 (Amazon Original)
The Great New Year's Baking Show (CBC Gem)
How To Ruin Christmas: The Funeral (Netflix)
LOL: Last One Laughing Mexico: Season 3 (Amazon Original)
The Queen Family Singalong (Disney+)
Saturday Morning All Star Hits! (Netflix)
Snoopy Presents: For Auld Lang Syne (Apple TV+)
Still Out of My League (Netflix)
Twentysomethings: Austin (formerly Roaring Twenties) (Netflix)
Two (Netflix)
The Unforgivable (Netflix)
December 11
The Hungry and the Hairy (Netflix)
December 12
Japan Sinks: People of Hope: Season 1, Episode 9 (Netflix)
Just Mercy (Netflix)