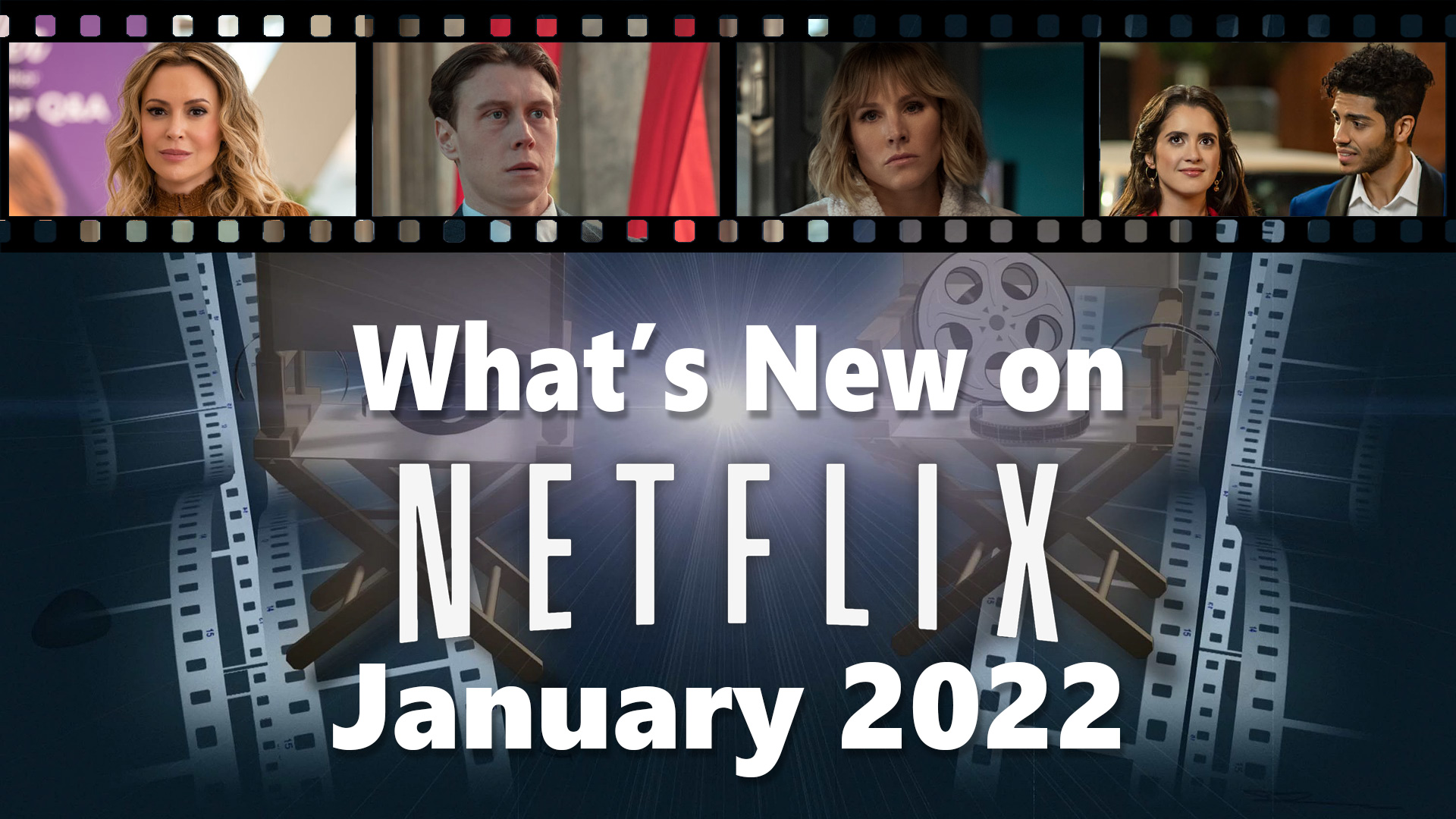 The holidays may be over by January, but there's still plenty of entertainment coming in the first month of the year on Netflix. There are several star-studded movies, as well as colorful animated shows for the kids and new seasons of some of your favorite shows. Scroll down to see the original programming being offered in January 2022 as well as a full list of what's coming -- and what's leaving the streamer. ~Alexandra Heilbron

STAR-STUDDED MOVIES
Mother/Android
- January 7
In a post-apocalyptic world rocked by a violent android uprising, a young pregnant woman (Chloë Grace Moretz) and her boyfriend desperately search for safety.
Brazen - January 13
Mystery writer Grace Miller (Alyssa Milano) has killer instincts when it comes to motive — and she'll need every bit of expertise to help solve her sister's murder.
The Royal Treatment - January 20
New York hairdresser Isabella (Laura Marano) seizes the chance to work at the wedding of a charming prince (Mena Massoud), but when sparks between them fly, will love — or duty — prevail?
Munich - The Edge of War - January 21
In Autumn 1938, British civil servant Hugh Legat (George McKay) and German diplomat Paul von Hartman (Jannis Niewöhner) cross paths in Munich and conspire to prevent war in Europe. Based on Robert Harris' international bestseller.
Home Team - January 28
Two years after a Super Bowl win when NFL head coach Sean Payton (Kevin James) is suspended, he goes back to his hometown and finds himself reconnecting with his 12-year-old son by coaching his Pop Warner football team.
The Woman in the House Across the Street From the Girl in the Window - January 28
When a handsome neighbor moves in across the street, heartbroken artist Anna (Kristen Bell) believes she has witnessed a murder... or did she?

RETURNING SERIES
The Hook Up Plan: Season 3
- January 1
With their friendship rocked by a secret romance, Elsa (Zita Hanrot), Charlotte (Sabrina Ouazani) and Milou each face up to dizzying challenges and big life decisions.
Undercover: Season 3 - January 10
Hoping to turn his life around, Bob (Tom Waes) takes on a dangerous undercover mission to root out a police mole, but his path once again crosses with Ferry Bouman.
After Life: Season 3 - January 14
While Tony (Ricky Gervais) is no longer quite so aggressively grouchy about life, he continues to struggle to fill the void left behind by his late wife.
Ozark: Season 4, Part 1 - January 21
Freedom from the cartel is seemingly within reach, but fraying familial bonds may prove to be the Byrdes' ultimate undoing.
Snowpiercer: Season 3 - January 25 (New Episodes Weekly)
Six months later, Layton (Daveed Diggs) continues to search the globe for livable conditions while Wilford (Sean Bean) — fueled by fury and revenge — remains in hot pursuit.

FOR KIDS
Action Pack
- January 4
With hearts, smarts and superpowers, the heroic kids of the Action Academy work together to battle the baddies — and even bring out the good in them!
Johnny Test: Season 2 - January 7
From VR-wizarding to real-world monster-slaying, Johnny and Dukey dive headfirst into a slew of outrageous adventures that rarely go as planned.
Riverdance: The Animated Adventure - January 14
After a heartfelt loss, Irish-born Keegan and his Spanish-born friend Moya learn to dance through danger and despair with a magical herd of spirit deer.
Mighty Express: Train Trouble - January 18
A sneaky duo has tricked the trains and taken over Mission Station! Can Flicker flex his skills on the tracks to rescue his friends and save the day?
Ada Twist, Scientist: Season 2 - January 25
Ada and her science-loving friends are searching high and low for answers this season, from the sky above to the earth below and everywhere in between!
Angry Birds: Summer Madness - January 28
Sparks and feathers fly when a teenage Red, Chuck, Bomb and Stella spend a wild summer together with other Angry Birds at Camp Splinterwood!
January 1
Chief Daddy 2 - NETFLIX FILM
The Hook Up Plan: Season 3 - NETFLIX SERIES
1BR
3:10 to Yuma
Apocalypse Now Redux
Argo
Contagion
Countdown
Masha's Tales: Season 1
My Best Friend's Girl
Norm of the North
Pacific Rim
Saw III
Saw VI
Sherlock Holmes: A Game of Shadows
The Blair Witch Project
The Ghost Writer
Waiting...
Why Did I Get Married?
January 2
American Sniper
The Campaign
Cradle 2 the Grave
Exit Wounds
Gangster Squad
The Great Gatsby (2013)
RuPaul's Drag Race: Season 13
RuPaul's Drag Race: Untucked!: Season 13
January 4
Action Pack - NETFLIX FAMILY
January 5
Bad Boys for Life
Four to Dinner - NETFLIX FILM
Rebelde - NETFLIX SERIES
January 6
The Club: Part 2 - NETFLIX SERIES
The Wasteland - NETFLIX FILM
January 7
Hype House - NETFLIX SERIES
Johnny Test: Season 2 - NETFLIX FAMILY
Mother/Android - NETFLIX FILM
January 10
Terminator: Dark Fate
Undercover: Season 3 - NETFLIX SERIES
January 11
Dear Mother - NETFLIX FILM
January 12
How I Fell in Love with a Gangster - NETFLIX FILM
January 13
Brazen - NETFLIX FILM
Chosen - NETFLIX SERIES
The Journalist - NETFLIX SERIES
Photocopier - NETFLIX FILM
January 14
After Life: Season 3 - NETFLIX SERIES
Archive 81 - NETFLIX SERIES
Blippi: Adventures
Blippi's School Supply Scavenger Hunt
The House - NETFLIX SERIES
Riverdance: The Animated Adventure - NETFLIX FAMILY
This Is Not a Comedy - NETFLIX FILM
January 16
Blow
Deadly Class: Season 1
Dennis the Menace
Prisoners
Set It Off
January 17
After We Fell
Playing with Fire
January 18
Mighty Express: Train Trouble - NETFLIX FAMILY
January 19
El marginal: Season 4 - NETFLIX SERIES
Heavenly Bites: Mexico - NETFLIX DOCUMENTARY
Juanpis González - The Series - NETFLIX SERIES
Midnight in the Switchgrass
The Puppet Master: Hunting the Ultimate Conman - NETFLIX DOCUMENTARY
Too Hot to Handle: Season 3 - NETFLIX SERIES
January 20
Midnight Asia: Eat · Dance · Dream - NETFLIX DOCUMENTARY
The Royal Treatment - NETFLIX FILM
January 21
Munich - The Edge of War - NETFLIX FILM
My Father's Violin - NETFLIX FILM
Ozark: Season 4, Part 1 - NETFLIX SERIES
Summer Heat - NETFLIX SERIES
That Girl Lay Lay - NETFLIX FAMILY
January 24
Three Songs for Benazir - NETFLIX DOCUMENTARY
January 25
Ada Twist, Scientist: Season 2 - NETFLIX FAMILY
Neymar: The Perfect Chaos - NETFLIX DOCUMENTARY
Snowpiercer: Season 3 - NETFLIX SERIES (New Episodes Weekly)
January 27
Blumhouse's Fantasy Island
Framed! A Sicilian Murder Mystery - NETFLIX SERIES
Wentworth: Season 8
January 28
Angry Birds: Summer Madness - NETFLIX FAMILY
Every Breath You Take
Feria: The Darkest Light - NETFLIX SERIES
Getting Curious with Jonathan Van Ness - NETFLIX SERIES
Home Team - NETFLIX FILM
In From the Cold - NETFLIX SERIES
The Woman in the House Across the Street From the Girl in the Window -- NETFLIX SERIES
January 31
Horrible Bosses 2

LAST CALL
Leaving January 1
Mean Girls
Leaving January 6
Meet the Fockers
Meet the Parents
Leaving January 10
IT: Chapter Two
Leaving January 15
Top Gun
Leaving January 31
My Little Pony: Friendship Is Magic: Seasons 1-8
Parks and Recreation: Seasons 1-7