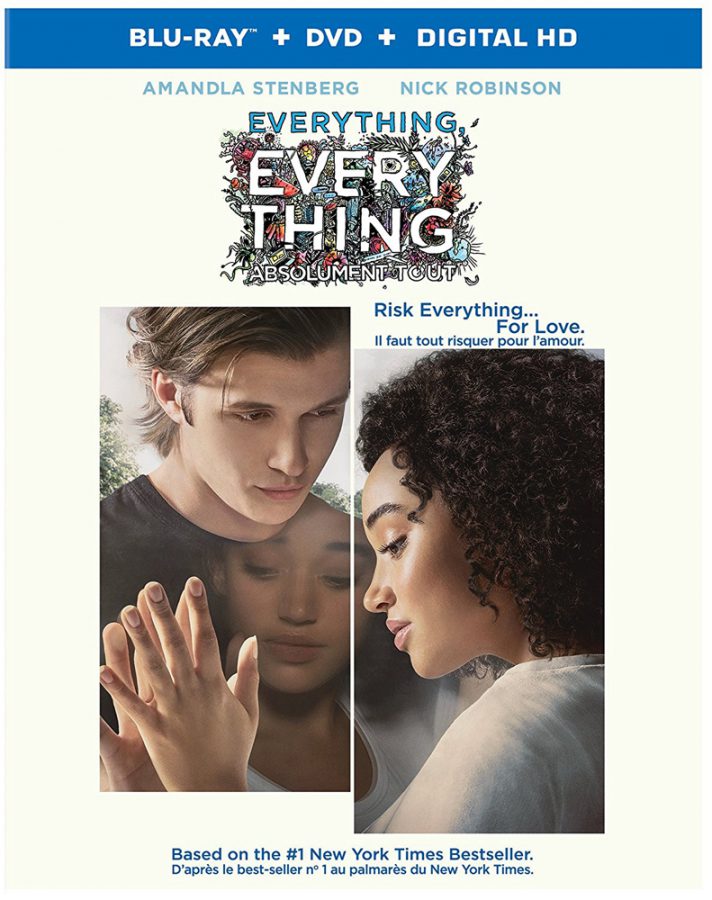 After reading the book this movie is based on, I was looking forward to seeing how
Everything, Everything
played out on the screen. I was happy to find the movie adaptation almost exactly mirrored what was in the book.
The story is about Maddy (Amandla Stenberg), a girl who has been sequestered in her home since before the age of two, due to a diagnosis of SCID -- severe combined immunodeficiency, which basically means she doesn't have a working immune system. People who visit the house need to stand in a room to be disinfected before they can enter the area in which she lives.
Maddy lives with her mother Pauline (Anika Noni Rose) and their housekeeper/nanny Carla (Ana de la Reguera). Maddy, who is turning 18, gets her studies online, and occasionally a teacher will come visit to look at her work (this is only shown in the deleted scenes).
Maddy's world changes when she spots a boy named Olly (Nick Robinson), who's moving in across the street. When he and his sister bring over a Bundt cake as a means of saying hello to their new neighbors, Pauline tells them she can't accept the gift.
Maddy can see Olly's bedroom window from her room, and the boy leaves the Bundt cake on his sill in various states. First, he knocks the cake out of the window. It survives. He brings it back and sticks an IV in it, pretending to be a doctor. Then he dresses up as a priest, giving the cake its last rites.
Maddy is intrigued. She and Olly begin corresponding by text, instant message and email. In an early scene, the actors appear in a diner (a large-scale version of a model Maddy has created for one of her classes) and speak their messages out loud. It's an effective way to show their relationship developing. What I found interesting and true to life about this was that they're extremely comfortable together in the scene in which they're texting, but when they actually meet, they're much more awkward and tentative in person.
Carla, who loves Maddy like a daughter, decides to allow Olly to come over for a short visit (without getting permission from Pauline), but warns Maddy that he can't come anywhere near her. Maddy, who rarely has a visitor, can't believe her ears and stresses about what to wear. Over the years, her mother has provided her with nothing other than white T-shirts and jeans. So she orders new clothing online to prepare for the "date."
Although the first meeting is awkward, it's clear these two are developing a connection. One of the only parts left out of the movie was a better glimpse into Olly's home life. In the book, his father is physically abusive -- when he's not attacking Olly's mother or Olly, he's doling out heavy criticism.
Olly is blamed for the rejection of the Bundt cake, and later, Olly, while defending his mother, is badly beaten by his father on the front lawn of their house. This latter scene is in the movie, but it looked like Olly started it, which is not the case in the book. I didn't feel his troubled family life was clearly shown, although I appreciated that Nick Robinson played Olly as someone who has been damaged emotionally as a result of his father's abuse. He doesn't seem to think he deserves Maddy's love -- taking a while to warm up to the fact that she actually cares about him.
Amandla Stenberg also played her role perfectly -- she was exactly how I pictured her in the book. Soft-spoken but determined -- and when she finds out a certain character has deceived her -- firm and unforgiving, though not unkind. She wants to forgive, but she needs time.
There aren't a lot of special features on this Blu-ray, but the deleted scenes show a number of key scenes that give us more insight into Maddy, including a scene with Rosa (Carla's daughter). A featurette titled Trapped in Love: The Story of Everything, Everything takes us behind the scenes with the author of the book, Nicola Yoon. We also get a glimpse of the film being shot on location and hear from Nick Robinson and Amandla Stenberg as they talk about their characters.
If you've seen Everything, Everything, please click here to leave your own review/star rating. ~Alexandra Heilbron
Click here to enter our contest for a Blu-ray copy of Everything, Everything.