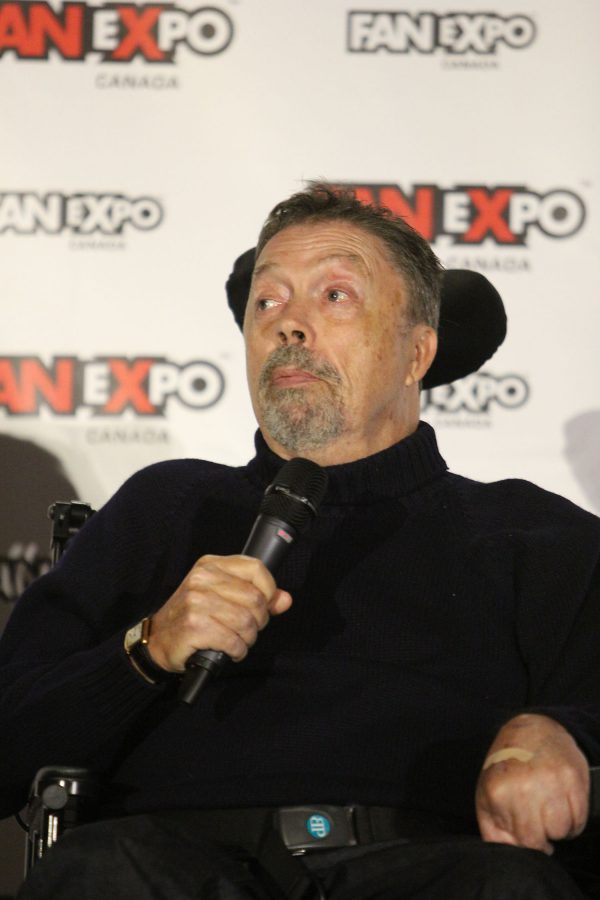 What a day! Rock star Meat Loaf entertained his fans at a Q&A, John Barrowman kissed one of his fans, and acting legend Tim Curry (pictured at left) held an unforgettable panel with fans. Tim Curry's public appearances have been limited since he suffered a stroke in 2012.
John Barrowman
Arrow star and Fan Expo favorite John Barrowman was back and better than ever. A moment that's sure to go viral online occurred when a shirtless man calling himself "Montana" went on stage. He wanted to kiss John, but insisted he was straight. John replied, "Well, in a minute you're not gonna be." The two kissed, but John still thinks his Dr. Who co-star David Tennant is the best kisser (the two kissed at San Diego Comic Con in 2009).
Montana asked if anyone recorded the kiss, since he forgot his camera. "Everybody got that!" John replied as the audience cheered in agreement. "Are you here with somebody?" John asked Montana. "Yeah, my girlfriend," Montana replied. The crowd erupted in laughter, but thankfully for Montana, his girlfriend was OK with the whole thing.
Meat Loaf
Singer and actor Meat Loaf has been an international superstar for over 40 decades. He graciously answered his fans' questions in his unique manner. He even admitted to being an alligator!
Tim Curry
The audience of thousands rose to their feet as this acting icon was wheeled onto the stage. The Rocky Horror Picture Show star suffered a major stroke in 2012, but his spirit is as lively as ever.
Tim says the favorite movies he's done are Muppet Treasure Island and Clue. While shooting a scene with Miss Piggy, he improvised a joke about trying pork and "never going back." Tim was upset when it was cut from the film.
He called Alec Guinness a great inspiration, and the audience roared in agreement when moderator and animation legend Charlie Adler called Tim Curry our Alec Guinness.
He then shared some juicy Home Alone 2 stories. According to Tim, Macaulay Culkin had difficulty remembering his lines. While Tim says he liked Macaulay, he also extended his sympathies to him. "I have a lot of sympathy for child actors...most of them don't know what they hell they're doing."
Donald Trump had visited the set of Home Alone 2 to perform a brief cameo. While on set, Trump introduced his soon-to-be wife Marla Maples to director Chris Columbus in the hopes of furthering her acting career. According to Tim, Trump said, "She's a great actress, but she's a pain in the ass...they all are." By "they," Trump was presumably referring to women.
Tim ended his Q&A by telling the audience, "It's dull and annoying to look on the dark side of life because you're no fun to be around." He said his acting method is simple. "I read whatever I'm doing very thoroughly several times to get an idea of what I'm going to do...and then I show up."
As for the highly-anticipated IT reboot? Tim is excited about it. He hopes the ending is done better than the one in his adaptation. While he was filming the 1990 TV miniseries, Tim says one of the child actors told him, "Tim, you're scaring me!" Rather than consoling him, Tim told him he should be scared.
Stay tuned for more Fan Expo coverage! ~Yanis Khamsi with photos by Joanne Chu-Fook