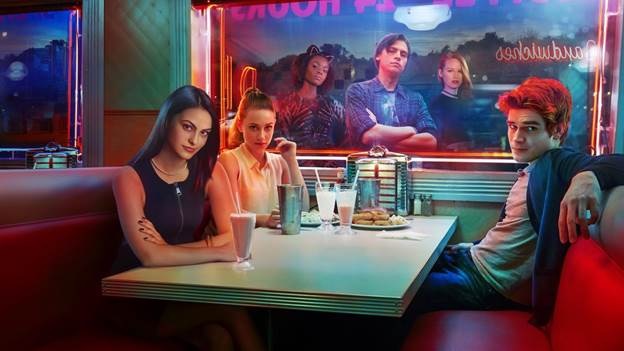 Archie and gang have never been able to resist the mouthwatering milkshakes served at Pop's Diner, so why should we?
In celebration of Season 2 of the hit Netflix show Riverdale, Canada is getting an exclusive Pop's Chock'lit Shoppe at select locations on October 12 and October 13. Decked out with all the Pop's essentials, fans will be presented with Archie's classic dilemma: Betty (Old Fashioned Vanilla) or Veronica (Double Chocolate) and what's the cherry on top of this classic dessert? Milkshakes will be served in Pop's cups!
The first 200 guests will be given free milkshakes! Here are a few locations.
THURSDAY, OCTOBER 12, 7PM - 11PM
Mission, BC: Rocko's Family Diner (+ screening of S2 premiere)
Calgary, AB: Boogie's Burgers (Marda Loop)
Ottawa, ON: Zak's Diner (Byward Market)
Toronto, ON: Fran's Restaurant (College Street)
FRIDAY, OCTOBER 13, 7PM - 11PM
Vancouver, BC: The Templeton
Edmonton, AB: Route 99 Diner
Toronto, ON: Fran's Restaurant (College Street)
Toronto, ON: The Lakeview (1132 Dundas Street W Toronto, ON M6J 1X2)
To find the Pop's closest to you, fans can visit popsdiner.ca. So gather your friends, frenemies and love bugs for some milkshakes and drinks. The new season of Riverdale will stream every Thursday on Netflix starting today.